A big trend among some online sellers is buying Amazon return pallets and overstock and flipping the items for big markups. Here's a full run-down to help you get started.
---
What are Amazon Return Pallets?
Amazon customers have 90 days to return items for any reason. It often does not make sense for sellers to pay Amazon to ship items back which means they get liquidated instead. Amazon often unloads these pallets of returns to secondary markets and puts them up for auction.
---
Why Would You Want Amazon Return Pallets?
You are getting a pallet-load of retail items at a greatly reduce rate. The more you buy, the lower the price for each item. The goal is to turn those items around and resell them at a regular retail rate for a big markup compared to what you paid.
---
What is the Process?
Amazon will sell these pallets through an auction.
You bid on the auction and win.
Pay for the pallet and put in any additional information necessary to complete the purchase.
Pallet gets shipped to you.
Then you break-down the pallet and sell whatever you can:
Flip items in good condition.
Refurbish broken items.
Items that can't be fixed, you can sell the parts.
Undamaged original packaging and boxes can sometimes be sold on Ebay.
---
What Do You Need to Buy an Amazon Pallet?
You must have an account setup and be approved to bid on the auction site.
Must have a valid reseller certificate. You will need this to avoid paying sales tax on the pallet and you will most likely need one to resell your items.
If you win the bid, you will provide extra information to complete the order, make payment, and finalize shipping.
---
Where to Buy Amazon Pallets
There are a number of liquidators that distribute returns and overstock from major retailers. These are the most well known and convenient to use:
---
Bstock is partnered with and hosts the official Amazon Liquidation store. Pallets are sold as auctions. You get a general description and maybe a couple of pictures, but otherwise the quality of the items is a complete shot in the dark.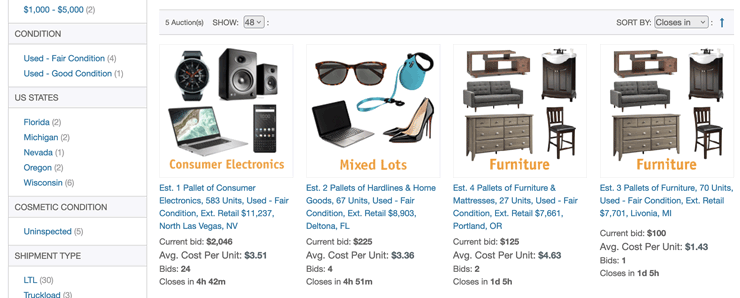 You have to open an account with Bstock to place bids.
Once an auction is won, you will need an Amazon.com account to complete Amazon's tax exemption process.
Make sure you have the correct shipping address on the account as Amazon will use this as the shipping destination.
Amazon has their own shipping providers and buyers are basically stuck with what they offer.
Bstock also offers pallets from other major retailers like Walmart, Target, Wayfair, and Home Depot.
---

This site is different in that it does not run auctions. If you see a pallet you like, you just go ahead and buy it.
The pallet images give you a much better view of the items so you can see what is included. Listings also include a manifest so you can see exactly what you are buying. That does not mean items are not broken, but you do get a nice list of what's being offered.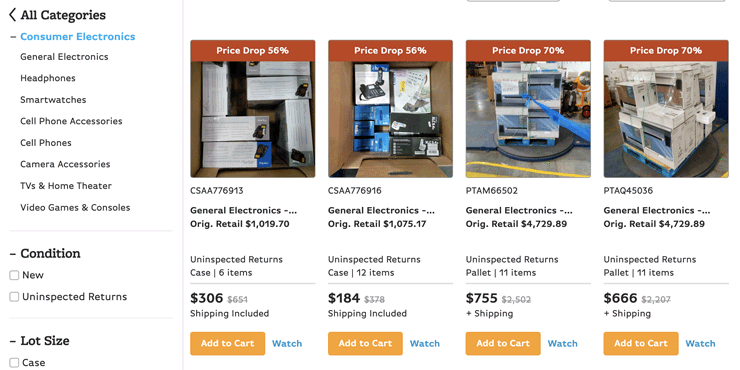 BULQ arranges freight for shipping to your address. Just let them know if you have a loading dock, or if it's being delivered to a residential address.
---

Like Bstock, Liquidation.com also offers Amazon pallets through auctions. The images in the listings are generic retail images, but you do get a manifest of items in the pallet.

Amazon arranges the shipping through their providers.
The other major benefit of Liquidation.com is that they offer pallets from other brands like Walmart and Target, as well as Sony, CVS, Lowes, and more.
---

DirectLiquidations.com is also an auction site, however it does not focus on Amazon pallets as much as the others. Instead, they have a lot of pallets from major retailers like Walmart.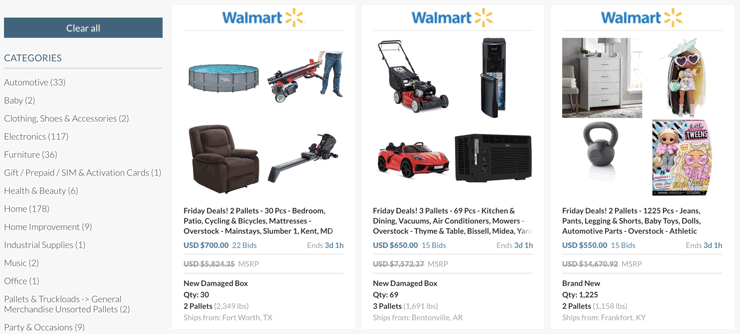 The big difference with DirectLiquidations.com is that they offer far more shipping options. Considering how important shipping costs are to your profit, that can be a big deal.
They offer their own suite of shipping options.
Customers can arrange their own shipping.
Or, you can drive to one of their warehouses and pick up the pallet yourself.
Consolidated shipping for multiple pallets is also an option, provided you are shipping your pallets from the same warehouse.
---

bluelots.com is another auction site that offers pallets. They a smaller selection of inventory than the other major liquidators, but the listings are very detailed. They have multiple images of what's included as well as a detailed manifest.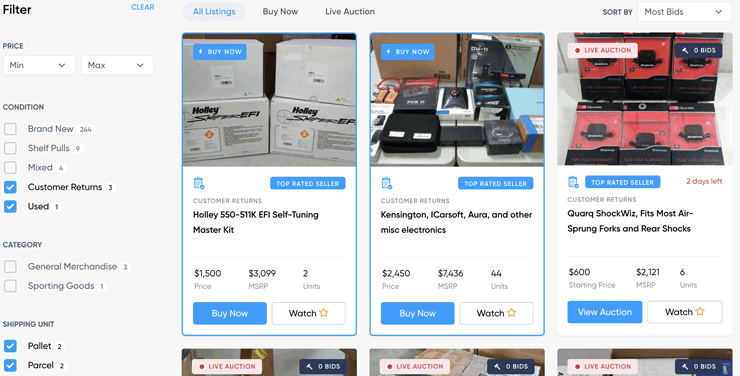 ---
What is the best time to buy Amazon return pallets?
The main season to buy pallets is after the holidays. Those months early in the year will be the best time to pick up pallets because there will be a lot of stock available.
---
Receiving Your Pallet
Consider how you will receive your pallet and talk to the company making the delivery. A full-size truck normally needs a loading dock at a warehouse location. If you are shipping the pallet to your house or somewhere else, you will need a box-truck with a lift gate to get it down. You could also drive to the trucking terminal in a pick-up truck or with a trailer and arrange for them to load it for you.
---
Making Money
When bidding on a pallet, aim for 20% below MSRP or better.
MSRP is the 'estimated retail value' of the items on the pallet. It does not account for how many items are broken and damaged, shipping costs, all the fees from buying the pallet and selling the items, or any other costs that you'll pay along the way. You need to buy the pallet for as low as possible to make any profit.
Keep Shipping Costs Low.
Buy pallets near your location so you don't have to ship them far. Depending on what category the products are, the shipping charges will usually cost more than buying the pallet itself. If you have the pallet dimensions, weight, and source location, you can get shipping quotes beforehand so you have a rough idea what the cost will be before you buy the pallet.
If you are buying multiple pallets at a time, some platforms or sellers may allow consolidated shipping. Assuming the pallets are being shipped from the same warehouse and being delivered to the same destination, they can be combined into one truckload to save money. Check with the seller or the company running the auctions to see if that is an option.
Avoid Fees and Overhead.
If you resell items on Amazon, expect to lose a third of your profit in fees. Ebay also charges around 15 percent for fees. Keep track of the fees on each platform you use to sell items and make sure they are not killing your profit margins.
Another avenue is to sell your products locally through craigs list, OfferUp, letgo, or facebook. The fees will be much lower, but the down-side is it's a much smaller audience viewing your products. You could also consider local flea markets or a garage sale as a way to convert excess items into cash.
Repair and Refurbish as Much as Possible.
A working product in original packaging will earn a much higher price. Test your products to make sure they work. Fix and refurbish the ones that don't. If possible, try to find or repair the original packaging. Sometimes you can find original boxes on Ebay. Finish the product with shrink wrap to make it look new.
Bundle Items to Increase Value.
Selling a complete product will be worth more than a partial set or incomplete item. Maybe a toy set is missing a piece, or an electronic is missing an accessory. Consider buying a missing part off Ebay or other second-hand marketplace to complete the set and increase its' value. You want to present your items as close to 'new' as possible.
Unrepairable Items
If an item can't be repaired, sell off the parts. Undamaged packaging and original boxes can sometimes be sold on Ebay. Donate items you can't sell to a charity for a potential tax write-off.
Research and Be Aware of the Market for Your Items.
If other resellers are selling the same items, competition will hurt your profits. You will be undercutting each other to move the items and their value will go down. Keep an eye out both for over-represented products that are losing value, and for opportunities where you can sell items that other sellers are not offering.
Some brands have restrictions for what products can be resold on Amazon.
Unless you are an authorized seller, these restrictions could be for specific products, specific lines, or everything related to the brand. Check your items against the Seller Assistant app to see which items have restrictions. You can also use the AZInsight browser extension.
---
Pros to Selling Amazon Pallets:
Low Overhead
You don't need much to get started other than a reseller certificate and a place to ship the pallet. You'll need a workspace to break-down the pallet, pack-up items, and do repairs on broken products. You will need some shipping supplies to pack your products for buyers, or shipping back to Amazon.
Easy to Start
You just need a reseller certificate, the money to buy your first pallet, and somewhere to sell your items. If you are planning on reselling them online, you will need seller accounts setup on your chosen platforms. You will also need a bank account setup to receive payments from selling your items.
Potential Profits
You can potentially earn a big markup on items. If you get branded products in decent condition and can sell them at full retail prices, there's good money to be made. It's not easy, and the pallet you buy will always be a gamble, but there is profit if you are willing to put in the work.
---
Cons of Selling Amazon Pallets:
Not Scalable
The success of flipping pallets depends on your legwork, ability to find good deals, and keeping costs low. Having to hire employees will chop through your profits and your business will have a hard time staying viable.
Your Income Will Be Inconsistent.
The value of pallets will change greatly based on chance. Some will earn a good return and others will be duds. The availability of pallets will change throughout-the-year and you won't always be able to find good deals.
Turn-around Time to Sell Items
Ideally, the items you get in your pallet will sell right away, but that's not always the case. You may have items that many other sellers are also trying to move and they don't sell quickly. You may have items that are no longer in-demand and traffic to the listings is slow. Or it could be that a lot of the items in your pallet need repairs and you are stuck trying to fix everything. There's no guarantee that your items will be quick flips.
Need Space
You may start out working in your garage breaking down pallets, and you will have items in various states of; waiting to sell, needing repairs, selling as parts, or packing up. Over-time as you process more pallets, the number of items you have hanging around will grow and your space-needs will increase. Eventually you may find that you've outgrown your workspace, or you end-up having to cut your losses and dispose of excess items.
---
Conclusion
Finding an Amazon pallet can earn you a bunch of money. You are looking for pallets that are close to your location, that you can identify will resell well, and hopefully are in reasonable condition. On good pallets, you can get great markups. But there's always the chance you'll get stuck with a bad pallet. There is profit to be made, but every pallet you buy is a gamble. Like any gambling; do your research beforehand, keep your loses low, and hedge your bets in your favor at every opportunity.
---
Related articles: