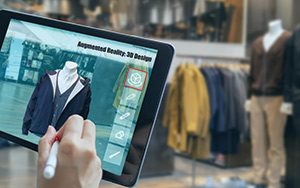 Small Business Saturday is right around the corner, are you excited? Indie retailers are finishing the last minute touches for their displays and events, consumers are ready to start checking off items on their loved ones lists, and even some cities and towns are celebrating this day. This is the 10th anniversary of Small Business Saturday, and American Express has some great things prepared to bring together the community.
"Small Business Saturday has always provided some type of support and resources to communities, but this is the first year they're doing an interactive experience," Nicole Leinbach Reyhle, a spokesperson for Small Business Saturday, said. "American Express is partnering with trend forecasting company, WGSN, to inform consumers as well as small business owners as to what the future of shopping small can do for communities."
This unique retail experience will take place in New York City (632 Broadway New York, NY 10012) and will include AI and AR retail technologies, reimagined physical retail spaces, clothing from zero waste clothing manufacturing and more. The experience will be open to the public on November 23, 24, 30 and December 1 from 11am to 6pm ET.
American Express will also be giving out a guide and grants to small businesses. With insights garnered from WGSN, American Express is backing small businesses by creating a Future of Shopping Small Guide filled with actionable tips to help small business owners begin to future-proof their businesses. This guide will be widely available at AmericanExpress.com/FutureofShoppingSmallGuide on November 22, 2019.
American Express is also collaborating with Main Street America (MSA) to give 10 small business owners a $10k grant each to help their businesses innovate in this evolving retail landscape, according to their press release. The grant program celebrates small businesses across the country that have demonstrated new approaches to traditional retail strategies and businesses that are looking to try out new techniques. The application to apply for this grant will be available starting on November 30th at AmericanExpress.com/FutureofRetailGuide. Deadline to apply is March 31, 2020.
"The goal of these experiences is to encourage consumers to have a stronger sense of what shopping small might look like in the future as well as now," Reyhle said. "67 percent of every dollar spent in small businesses ends up staying in the local community. But the impact of that dollar doesn't just stay there — if consumers are aware of shopping small, 75 percent say they're more likely to shop from small businesses."
Reyhle says select cities and towns are going above and beyond for Small Business Saturday, including Downtown Santa Barbara, CA, which will host a Small Business Saturday Block Party on 0-100 blocks of West Ortega Street from 12pm – 5pm. There will be free spaces for businesses to host a tent to display marketing material, fliers, menus, coupons, and business cards, along with demonstrations and activities. This event will also include live music and games such as Downtown Trivia, a Prize Wheel, Cornhole and more.
Downtown San Luis Obispo, CA, also intends to run their popular passport program with participating downtown businesses. The small businesses will run a promotion that day and stamp the passport of shoppers who make a purchase. The buyers who meet the required number of stamps and turn in their passports get an opportunity to win a basket of local goodies.
Whether it's a local flower shop or your favorite place to grab a sushi with friends, supporting small businesses is a way to unite neighborhoods and create thriving communities. November 30th is the perfect day to bring everyone together to support indie businesses because when independently-owned shops and restaurants thrive, the neighborhood thrives and the spirit of the community is strengthened. For more local events near you, visit shopsmall.com and see what's happening in your own hometown