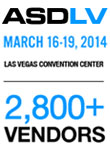 The ASD Las Vegas trade show, which will be held March 16-19 at the Las Vegas Convention Center, attracts attendees from every retail channel looking for new suppliers and products. The event will have over 2,800 vendors showcasing their latest offerings at every price point. ASD showcases merchandise in the following categories: gift & home, fashion accessories, jewelry/cash & carry, health & beauty, toys & novelties, value & variety, and general merchandise. Approximately 45,000 buyers from over 88 countries will attend. Types of stores that are present include apparel/accessories, museum, aquarium, national parks, zoos, jewelry, gift, toy, dollar stores and more.
SOURCE DIRECT, a sourcing show, is new to ASD Las Vegas and will showcase more than 250 manufacturers from top countries such as China, India and Africa.  Merchandise includes fashion accessories, housewares, gifts & toys, apparel, holiday and seasonal merchandise, souvenirs & novelties, consumer electronics, bedding & bath, health & beauty, and general merchandise of all types. Now with SOURCEDIRECT, ASD Las Vegas is seven shows in one and the marketplace for every distribution channel.
Independent Retailer Conference
New to the March event, the show will welcome the Independent Retailer Conference. The symposium will engage with independent retailers through educational seminars, workshops, quick tip teachings and more. "We are excited to bring expert education and trusted support uniquely for independent retailers to our upcoming show, providing the thousands of independent retailers who attend each ASD show a valuable experience to help their stores further succeed," states Camille Candella, ASD show marketing director. "The Independent Retailer Conference is committed to delivering quality education for merchants who have one to ten stores. We are excited to support the attendees of ASD, and look forward to supporting ASD in their constant efforts to best support retailers," adds Independent Retailer Conference co-founder Nicole Leinbach Reyhle.
For more information or to register, please click here.