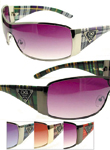 With spring looming and warmer weather not far behind, now is the time to start stocking up on high profit sunglasses. Whether your customers are looking for fashion, sport or simply everyday styles, there are a number of wholesalers who have what retailers want at highly competitive prices.
One is Moda Collection, an eight year-old Missouri based company with hundreds of sunglasses styles, colors and designs in stock. "We used to be known as Lex Wholesale, selling only through word of mouth to sunglasses kiosks," says Jesse Witham, now president of marketing at Moda. "Eventually, we got into wholesaling to other kiosk vendors, starting small and then expanding," he adds. Witham says Moda went through a rebranding, and business took off from there. "We now manufacture our own product, where before we used to buy some styles and import others," he says. "We're now advertising heavily and using social media marketing as well to expand our brand."
Moda's factories are based in China, and produce thousands of pairs of sunglasses just for the company. "At one factory we're the only client they have," Witham notes. "We buy our Polarized sunglasses from another factory over there." Moda has a wide range of clientele, from brick and mortars to kiosks and carts, gas stations, convenience stores, trucks stops and even surf shops. The company's website, at modasunglass.com, displays the many varieties of glasses available. "Our minimum order is only $50," Witham says, "and we offer free shipping for orders over $200." The company also has escalating discounts for orders of more than $500 and $1,000. Plus, Moda features what it calls, "Sunglass Package Deals," where new buyers can get an assortment of sunglasses to see which styles sell best. "Our five dozen assortment pack comes with an additional 16 pair countertop display, plus a 10 percent discount, bringing the price down to only $135," Witham says. "That means each pair wholesales for only $1.80, and can retail for $10 and up. It's a great value."
Moda has other offerings at similar savings. "Some of our women's styles with rhinestones and Polarized lenses wholesale for about $2.10 a pair," Witham says. "Yet the high end boutiques that carry them are getting up to $30 a pair retail," he adds. With a 15,000 square-foot distribution warehouse centrally located in Springfield, MO, Moda gets all its orders to customers within three business days or less. "Most of our glasses come packed in a free display box," Witham points out. "It makes for a nice presentation."
Moda is making a big push this year with its own branded kiosks for malls. "They come in a twelve by twelve-foot size," Witham says, "with frosted acrylic glass and branded with the Moda name." Built especially for the company, Witham reports they're a great buy for anyone wanting to start up their own kiosk sunglass business carrying the Moda brand. "The kiosk comes complete for only $10,000, and we've gotten a huge response from the malls where we've placed them so far," he says. "If you wanted to have one built yourself, it would cost $25,000 to $30,000," he says. "Getting these out there will be our main push this year." There's also one other point Witham stresses: "We barcode every pair of sunglasses we ship. We started doing that from the beginning, thinking we were supposed to, and then folks started re-ordering just from us because of the barcodes we included. It was a happy accident," he notes. Moda must be doing something right, as last year the company sold 40 million pairs of sunglasses.
Pittsburgh based, Vanguard Sunglass, is also doing something right, as evidenced by the company's longevity in the business, and staffers who have been with Vanguard for more than 20 years. "I started selling out of my car," says Gerald Wilson, founder of the company more than four decades ago and still active today. "I realized I could fit 100 boxes of sunglasses in the car trunk, so I started out selling them that way. We now have a 30,000 square-foot warehouse," he says. Vanguard sells to just about everyone, and emphasizes its customer service along with low prices. "I try to give the customer as much as we can for their dollar," Wilson says. "I've been doing 40 years of honest dealing."
Vanguard carries an extensive line, including a special section called, "Dollar Store Basic," and, "Dollar Store Better." "We sell a lot of dollar goods, and also a nice assortment of designer glasses for $24 a dozen," Wilson mentions. "They come pre-tagged at $29 and $39 each, and retailers sell them for $5 to $10 a pair." All of Vanguard's designer styles are knockoffs or look-alikes, Wilson notes, but at greatly reduced prices, and a $500 order gets you a floor rack for free, which holds 144 pair of glasses. "We also have other kinds of racks that hold three, six and 12 dozen pair, as well as countertop styles and display cards that hold 12 pair of glasses each," he adds.
Besides sunglasses, Vanguard also carries reading glasses, as well as accessories, displays, cords, and eyeglass cases. "The cases go for as little as 10 cents apiece and up to a dollar each, but they're mostly given away as part of the sale," Wilson says. "Reading glasses are still a big seller, wholesaling for 60 cents each. Stores sell them for $2 each and up," he notes. Vanguard buys much of its stock in China, which is then shipped in 40 foot containers. Minimum orders are only $60, and for larger orders, buyers also receive a display to showcase the glasses. "We sell good merchandise at good prices," Wilson says. "What more could you want?"
Another good place to look for designer sunglasses might be Rochester, NY's, Mass Vision. Now in its seventh year, this company also started out retailing on the kiosk end of the industry, and then went into wholesaling to other kiosk owners. "We sell to kiosks, flea markets, festivals, tanning salons, gas stations and others," says Anthony Masiello, president of Mass Vision. The company also has a unique line of eyewear, carrying look-alikes of all the famous and popular brands on the market today, but at a fraction of the full retail cost. "We don't use company brand names to advertise our products," Masiello says. "We get as close as we can to logos and designs, and simply use their names to help sell the product, so clients can get an idea of the style we're describing. We expect our retailers to do the same for their customers," he adds.
A quick visit to the company's website at MassVisionSunglasses.com shows what Masiello is talking about. The site lists numerous styles and designs of eyewear inspired by famous, easily recognizable names. "Our current best sellers are the sunglass styles we carry inspired by Coach and Louis Vuitton," Masiello says. "They wholesale for between $26 and $30 a dozen, and the MSRP is $10 a pair and up," he notes. That's for a dozen of the same style. A mixed box of styles is only $32 a dozen, and they retail for even more. "We carry more than 1,000 different styles, shapes and colors of sunglasses, so we're sure to have what someone wants," Masiello says. Even better, Mass Vision has various discount plans, depending on the size of the order. For example, Masiello offers a 10 percent discount for orders of $500 to $999, 15 percent off orders totaling $1,000 to $1,999, and 20 percent off orders of $2,000 or more. "We also have other package deals available," he says, "from five dozen pair up to 100 dozen pair."
In addition to its many styles, Mass Vision also carries a number of different floor and counter displays, which hold from eight pair up to 250 pair of sunglasses. "We have 12 different types of displays in all," Masiello says. Trying to keep up with its growing business, Mass Vision has just launched a new website, WholesaleSunglasses4Less, which offers different products and pricing. "We're always featuring new styles, each and every week," Masiello says.
Another company that started in retail and then made the switch to wholesaling is, Sunrayzz Imports, of Vancouver, Canada. "We started in 2002 on the retail side," says Ray Leviste, president of Sunrayzz. "We built-up to numerous locations in Vancouver, and then in 2004 started the wholesale side, eventually selling off the retail locations," he says. "We took all that retail experience we had and started supplying other retailers." Sunrayzz sells to chain stores, kiosks and gift shops. "In the warmer weather we also do a strong business selling to market and festival vendors," Leviste notes.
Sunrayzz receives ongoing shipments of new and unique designs, so it's worth it to visit the company's website, sunrayzzimports.com, on a regular basis. "The new styles come in year 'round," Leviste says. "The styles for 2011 have been steadily arriving, about three to nine styles a week, and are all available online." For retailers thinking of testing the waters in sunglasses, Sunrayzz Imports has a number of introductory packages available. "We have starter packages where you can choose mixed dozens," Leviste says. "They seem to be popular with those just breaking into the business, or small stores where they want a mix. Retailers can buy three or four styles pre-assorted, and evenly distributed among colors," he adds. "We're also starting to offer a 'Customized Mixed Dozens' package you can make on your own, and select any styles and designs from our site," Leviste says. The sunglasses wholesale for $36 a dozen, and the MSRP is one pair for $13, or two for $20. "It's a very good markup," he adds.
Sunrayzz introduces between 300 and 500 different styles every year, but Leviste notes that the company's best sellers are still the classic Wayfarer and Aviator styles. "They wholesale for as low as $1.25 or $1.50 a pair, but again are selling at retail for $13 each, or two for $20," he says. Sunrayzz also carries Dolce & Gabbana look-alike styles that wholesale for $2 to $3 a pair, and can retail for four times as much or more. "We also have the D&G look-alike cases in various styles, which wholesale for $2 apiece and are sold in dozen lots," Leviste says. "Retailers are getting about $5 each for them."
Besides sunglasses, Sunrayzz also has displays and racks for retailers who want to get started right away. "We have a spinner rack that holds 122 pair of sunglasses, and a countertop display that holds from 24 to 66 pair," Leviste says. "The 24 pair holder is free as part of a package. Buy $250 worth of sunglasses and get the display for free," he says. "The 122 pair spinner display sells for $799, as part of a package that includes the free display and 25 dozen pair of sunglasses. That's 300 pair of sunglasses you can sell for a minimum of $10 a pair. It's a nice return," he adds. There's no minimum order size from Sunrayzz, but orders of $200 or more get free shipping. All new customers receive free shipping on their first order, with a minimum five dozen pair. "We've got two big warehouses, one in Vancouver and the other in Portland, Oregon," says Leviste. "So we can get customers what they need when they need it."
CTS Wholesale LLC also has experience selling sunglasses at fairs, festivals and kiosks, so the company knows what retailers are looking for in terms of stock and price. "Right now we sell to a broad range of retailers, from convenience stores to mall kiosks, to mom and pops, brick and mortars and gas stations," says Kirk Bachelder, spokesman for the company. "We carry between 400 and 500 skus, so we're sure to have something for everyone," he adds. CTS also finds that the Wayfarer and Aviator looks continue to be in demand, so Bachelder is expanding that line. "We're introducing Wayfarer two-tone frames," he says. "Some have designs on the temples and others on the glass themselves." CTS stands for, "Compare to Styles," which is what the company is best known for. The company carries look-alikes of the most wanted styles at deeply discounted prices, so retailers who buy from CTS are assured of fast and constant sales. In addition, CTS also has its own brands, "Diamond Eyewear" (called the DE brand), and "Xsportz," a more sporty style. Wholesale prices on CTS' own brands range from $8 to $20 a dozen, with a retail average price of $8 to $12 a pair, depending on the location where they're sold.
Besides a wide variety of glasses, CTS also carries a full line of wholesale accessories, including cords and cases and especially sunglass displays. "We have a beautiful rotating countertop display available," Bachelder says, "as well as a floor model with wheels on it, that's easy to move around a store, to get it in the best location." The company also carries a variety of displays. "They're nice looking display boxes that all the sunglasses come in," Bachelder says. "Retailers can use the box to display the product right on the counter." New for spring, CTS is receiving shipments of brand new kids' sunglasses. "We have an especially nice assortment of new, colorful wayfarer styles for the younger set," Bachelder says. "They wholesale for $12 a dozen, with an MSRP of about $8 a pair." For new customers, CTS has several deals available. "We've got a nice display rack, with starter glasses for those who want to try us out," he says. "One is a package deal with a rack and 36 pair of assorted sunglasses for only $99. It's a great way to start with us."
Navajo Manufacturing is one sunglass wholesaler that's headed in a new direction, into the growing arena of mixed martial arts, with its new, "TapouT," branded sunglasses. "TapOuT is a mixed martial-arts venue, and we've developed a beautiful line of sunglasses for them," says Brent Paine, marketing specialist at Navajo. "They're made with very high end glass, and people are going to be amazed by them," he adds. Right now the plan is for the high end brand to be sold in snow stores, surf stores and other unique outlets. The TapouT brand is in addition to the other wholesale sunglass lines Navajo carries, including Dominique Olivette, Ultimate Action, Envy, S-Gear, Piranha eyewear, and a children's sunglass line called, Kidz Classics.
Navajo has a variety of POP display stands and other display units to show off its sunglass line. "We offer tons of versatility," Paine says. All of the company's branded adult sunglasses wholesale for $3.50 to $4.75 a pair, depending on style, and Paine says retailers are getting anywhere from $9.99 to $14.99 per pair. The Kidz Classics sell at wholesale for $1.99 a pair, with an MSRP of $4.99. "We also have displays of sunglasses that arrive ready to sell," Paine says. "So if a mom and pop store wants to be a client of ours, we can ship them a display that arrives fully loaded."
For other retailers that favor the sports market, Pacific Link is a good company to know. "We've been in business since 1998," says Ron Bryan, sales director for the company. "Founder David Chin, a Chinese born American, started the business in the back of his parents' Chinese restaurant, utilizing his contacts from China. He still uses those contacts today, and now has a 40,000 square-foot warehouse in Georgia." Pacific Link wholesales all styles of sunglasses, as well as accessories and displays, to convenience, drug and beach stores. "We carry roughly 900 skus, including sport, designer, fashion and kids styles," Bryan says. "Element8 is our own brand of sport sunglasses, and our most popular sports line," he adds. Pacific Link caters to every market in the Southeast and up and down the East Coast. "Sport glasses are a big part of our business, about 70 percent worth," Bryan says. "The wholesale price averages about $24 to $26 a dozen, and we offer discounts for quantities. The MSRP averages $10 a pair," he adds.
Pacific Link is a full service supplier, also offering a number of different displays depending on a store's size and needs. "We sell racks that hold from 24 in a countertop display to 176 pair in a floor display," Bryan notes. "You can buy them empty or fully stocked." Bryan highlighted one promotion the company is currently running. "We sell one rack that holds 132 pair. That stocked rack wholesales for $600 to $700 depending on the styles," he says. "Yet retailers can turn around and sell the 132 pair at $10 apiece, more than doubling their money, and now they have a rack they can re-stock. So they can realize a huge margin from just two square feet in a store." Pacific Link sells to a number of buyers, including retailers, wholesalers, jobbers and the resort industry, especially in Mexico and to other international clients as well. "We have customers in Cancun who service more than 300 stores," Bryan says. The company is well situated for the spring rush, especially with its sports line. "We have 20 new sports styles coming out this month alone, and 10 to 15 new fashion styles," Bryan says. "We update our offerings every month."
Pacific Link wants it known that the company is actively seeking new business. "If customers call and ask us for what they want, we'll cater to their needs," Bryan says. "We do specials from time to time when we appear at trade shows, but we're willing to work with anyone." He also says Pacific Link will be flexible because they want the business. "We want the larger guys to know we can compete on price and style, and would welcome the opportunity to work with them. All we ask is that they give us a shot."
The following were interviewed for this article:
Moda Collection
2145-B Bristol Lane
Nixa, MO 65714
Toll Free: 888-308-6632
Website: www.modasunglass.com
Vanguard Sunglass Co. Inc.
2908 Smallman Street
Pittsburgh, PA 15021
Tel.: 412-471-9730
Toll Free: 800-433-1325
Website: www.vanguardglasses.com
Mass Vision
315 Halvern Cove
Rochester, NY 14622
Tel.: 585-254-3910
Toll Free: 877-609-9968
Website: www.massvisionsunglasses.com
Sunrayzz Imports
110-60 E. 5th Avenue
Vancouver, BC V5T 1G8
Tel.: 604-733-1266
Toll Free: 877-733-1266
Website: www.sunrayzzimports.com
CTS Wholesale Sunglasses
3525 Brady Court N.E.
Salem, OR 97301
Tel.: 503-364-3486
Toll Free: 800-796-3486
Website: www.ctswholesalesunglasses.com
Pacific Link Trade USA
1223 Coronet Drive, Suite 3
Dalton, GA 30720
Tel.: 706-275-0079
Toll Free: 866-824-0079
Website: www.sunglassespacificlink.com
Navajo Manufacturing Co.
5330 Fox Street
Denver, CO 80216
Tel.: 303-292-3090
Toll Free: 800-525-5097
Website: www.navajomfg.com