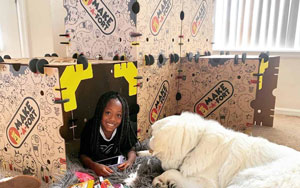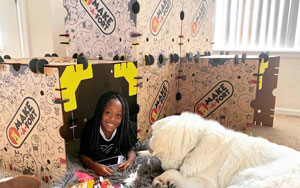 As families across the U.S. continue to follow stay-at-home orders due to COVID-19, there has been a huge sales spike in boardgames, puzzles, and outdoor activities to keep the household from dying of boredom. With the ability to build incredible forts, mazes, tunnels, castles, and more, Make-a-Fort can keep family members of all ages entertained for hours.
Play, Reuse & Customize
Make-a-Fort is just as cool as it sounds. Made right in Wichita, Kansas, they are buildable kits made of sturdy, recycled cardboard that can be formed into just about any indoor play area. Great for the whole family, these kits help to get children off of screens and engaged in creative real-world play. There are dozens of different project designs on the company's website that consumers can use to grab ideas from to help kickstart the building process. Each panel also comes with outlined cartoon characters that children can color in with paint, crayons, or whatever they like to personalize their fortresses.
Parents Love Making Forts
Each Make-a-Fort kit comes with everything consumers need to build whatever their heart desires, including 18 panels, 10 braces, 80 connectors, and one carrying case to make for easy cleanup and transportation. One of the reasons parents are raving over this product is because no extra tools are needed other than what comes in the kit, and children as young as five can build forts themselves. They are super easy to assemble and once users are done playing, the kit can simply be put back into the carrying case and stored in a closet or under a bed.
Kent Johnson and Troy Lindemann started Make-a-Fort, LLC to help create a better way for children to make forts without tons of duct tape and throwing it all away afterwards. 2019 was spent building different prototypes and testing the ideas on children, and after finally getting the right cardboard quality, the company launched in August of 2020. Make-a-Fort took off like a rocket and was a very popular gift for the 2020 Christmas season.
Let your customers have more fun spending time at home with their family and start selling Make-a-Fort's today!
Make-a-Fort, LLC
Tel.: 888-380-3678
www.makeafort.fun