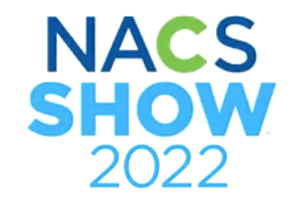 Network with peers, meet exciting new vendors, and explore technology that can streamline your business and delight your customers all at the 2022 NACS Show. Taking place October 1-4, 2022 at the Las Vegas Convention Center, this event is unmissable for those looking to build their brand. 
The Expo Experience
The National Association of Convenience Stores (NACS) boasts 420,000 square feet of expo space and more than 1,200 exhibitors across five categories, including merchandise, candy and snacks, technology, facility development and store operations, fuel equipment and services, and food equipment and foodservice programs.
Walking through the expo floor gives attendees the chance to meet hundreds of different companies and thousands of colleagues sharing the newest innovations in the industry. Guests can also get an up-close look at industry novelties, trends, and must-haves in the Cool New Products Preview room. On top of seeing new merchandise, there is also a New Exhibitor Area, where attendees can be the first to engage with the latest technology and companies entering the convenience store market, including emerging categories.
The Learning Experience
When it comes to learning, the power of peers is unequaled. Connect and share with real-world industry insiders and retail superstars who are shaping the future of convenience at NACS educational sessions, workshops, and seminars.
Educational Sessions:
To compete effectively, you need to develop critical expertise in key areas such as foodservice, technology, leadership, and operations. This is where the NACS Show education comes in. This year's 45+ education sessions were ideated and crafted by the Convention Content Committee with the goal of delivering the most relevant and stimulating content for show attendees.
Pre-Conference Workshops:
Registration for a Pre-Conference Workshop can be done as an add-on when you register for the NACS Show.
Small Operator Workshops:
Four hands-on training workshops help solve the challenges unique to smaller operators. Attendance is limited to the first 45 retailers that arrive. No pre-registration is required.
General Sessions:
All general sessions take place in Paradise Event Center at the Westgate. Speakers will be announced soon, so stay tuned to the NACS Show website.
Full Conference Registration includes access to all general sessions, education sessions, expo, and the NACS Show Kick-Off Party, taking place on Saturday, October 1 from 5:30pm – 7pm at Brooklyn Bowl. To view all of the different registration options, and to register for the event, click here.
The NACS Show
October 1-4, 2022
Las Vegas Convention Center
3150 Paradise Rd., Las Vegas, NV 89109