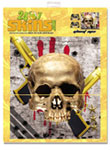 24/7 Skins makes customization possible with a line of skins and wraps for popular consumer electronics and products. The line covers smart phones such as iPhones and Androids, vaporizers, personal computers and tablets, video game consoles, and DJ consoles and personal stereos. "We can skin anything," explains Laura Hallenberger, director of sales and marketing. "Our motto is, 'customize your world', because anything you can put a skin on, we can design it."
Although the company's most popular products are for cell phones and vaporizers, 24/7 Skins prides itself on following trending products and reacting quickly to market changes. According to Hallenberger, the 24/7 Skins team of custom designers can adapt existing skin designs to fit any model of phone or vaporizer, if the company does not already offer a skin for a particular model. The firm offers more than 60 unique designs, including the popular Grim Reaper, the Mad Hatter, flag skins, and a new line of designs based on World War II fighting planes.
Made in USA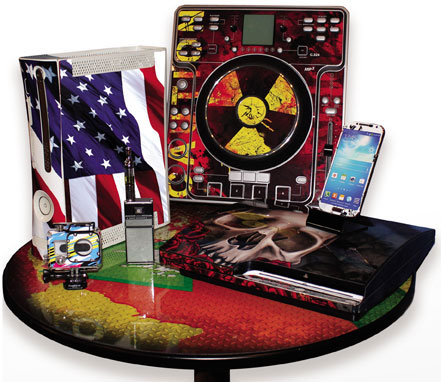 24/7 Skins was created as a subsidiary of AMR Racing, a world leader in the design and manufacture of off-road racing graphics for motocross, ATV, and other off-road vehicles. To transition from racing vehicles to consumer electronics, 24/7 used the same process as AMR, but featured thinner skins with a removable adhesive. "What separates our process from our competitors is that we hand template every single item here at our Las Vegas based manufacturing plant," Hallenberger says. "Everything from the template set-up, design process, and final production is done in-house, and is 100 percent made in the USA."
Beyond skins
24/7 Skins is not limited to skins. The company also offers a line of t-shirts with trending slogans and graphics, and a popular line of decals, including hunting permits such as the "Terrorist Hunting Permit" and "Zombie Hunting Permit." The permits are customized by state. "These are huge sellers," says Hallenberger. "A retailer can order for their state, and since they all have a year printed on them, they need to be replaced every year." 24/7 can also customize designs and skins for almost any product and graphic, including corporate logos.
Retail ready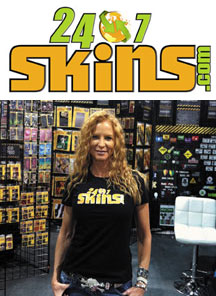 24/7 Skins products can be ordered wholesale directly from the company, which is in the process of developing a display rack. All products are shipped "retail ready." Individual skins are shipped in a plastic envelope bag, with a hard-stock card backing to protect the skin. They can be hung from a display indefinitely. "Unlike other skins, ours are all packaged with hard-stock backing, so they will not slip down in the bags and get ruined and crumpled," Hallenberger notes. "Our retail packaging is designed to last. It will not fade after a month or two."
Wholesale prices range depending on the product, and Hallenberger says keystone markup is standard at the retail level. Suggested retail on a full game console package, including the console and two controller skins, is $19.95, with wholesale prices ranging from $4.25 to $7.95, depending on quantity. Orders of 25 units receive a price break, which are also offered at 100 and 500 units.
24/7 Skins
6679 Schuster Street
Las Vegas, NV 89118
Tel.: 702-312-2217
Website: www.247skins.com