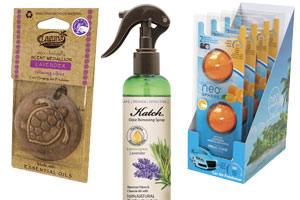 No matter what you sell, air fresheners are a great addition to any storefront. They can easily be placed on or next to checkout counters as impulse buys, and customers can purchase one for themselves or gift a few to a friend. Especially in this economy, ARTS offers affordable air fresheners that anyone can enjoy.
ARTS, (Aromatic Research & Technology Systems) is a leader in research, design, and manufacturing of scented products for auto, home, and work environments. A minority-owned small business, the company has warehouses in Southern California, which make for easy shipping anywhere in the U.S. They offer three different consumer scent solutions that can easily be placed in cars or different areas around the house and office spaces to eliminate unwanted odors:
Laguna — These are eco-friendly air freshener solutions for homes and automobiles. Each freshener is made from biodegradable and recycled materials, so they are not environmentally damaging when thrown away, and they all come with different ocean theme imprints. They are great for coastal and resort shops and are the company's best-selling air fresheners.
Neo — These sleek, modern scent products are made with a discerning eye for style. Instead of hanging from a car's rear view mirror, these air fresheners can easily be clipped to vents. Appealing to shoppers everywhere, Neo fresheners "will drive your bottom line."
Katch — Available as a spray, these help to "Katch" odors from the air and eliminate them naturally. Whether your customers need to neutralize odors from sports gear, shoes, trash cans, pet bedding, smoke, and anything else, Katch can help. With 100% natural ingredients, your customers do not have to think twice about what they are putting into the air.
Don't Get Caught, Get Katch
As one of ARTS' newest ventures, Katch is great for smokers who may not want the smell lingering around their house. Made with all-natural ingredients, it is great to use in any space around children and pets. One of the ingredients, Grapefruit Seed Extract (GSE), helps to eliminate odors thanks to its antimicrobial nature. It destroys or suppresses the growth of microorganisms, including bacteria and fungi. Katch also makes for a great impulse buy, taking up very little counter space, and can easily be placed in bags as a travel odor neutralizer.
All of these great air fresheners can be purchased through ARTS. To view everything that they have to offer and become a dealer, visit their website at www.aromaticltd.com.
ARTS
805-535-4443
www.aromaticltd.com