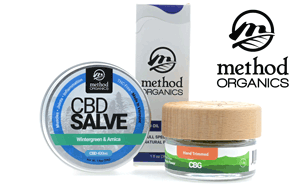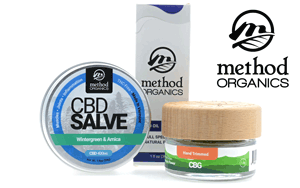 From the soil the hemp thrives in to the hemp-infused product curation, Method Organics provides complete transparency from the farm to consumers everywhere. They produce some of the best CBD- and CBG-infused products by working hand-in-hand with trusted Vermont growers. Together, they deliver high quality and effective products to your customers.
Crafted & Curated to Perfection
Method Organics offers a wide range of products that not only contain CBD, but CBG as well. The company recognizes the dozens of useful cannabinoids that can help the body, so they focus on delivering a multitude of products containing different cannabinoids as they learn, more research is done, and the industry evolves. Currently, the brand offers oil drops, beverage drops, edibles, topicals, and pet products.
Method Organics classifies their products into morning, all-day, and evening products, meaning that certain items are best taken at those times of day. CBG is used as a pick-me-up, enhancing focus and providing energy which is perfect for the morning. They have a blend of the two cannabinoids for mid-day products to provide a balanced approach to the day. In the evening, Method has CBD items to give that calming effect.
Hemp-Infused Wellness
On top of all of their wonderful offerings, Method Organics is offering new products soon. One of them is Re-Leaf Cream, which will contain both CBD and CBG, as well as 12 essential oils. This cream is a calming topical that can be used on the temples and on pulse points, or on random aches and pains and on the joints. Another new product expected to hit market soon is a higher dose of their all-day oil drops, available in 3,000mg with a 50/50 blend of CBD and CBG. Coming in a one ounce bottle, these oil drops contain organic cinnamon bark extract to add some flavor, as well as organic hemp CBD crude oil. Another new product which will be available shortly is a sleep gummy, containing CBD plus CBN (cannabinol).
Crafting with some of the best hemp cannabinoid extracts to come out of Vermont, Method Organics oversees every process that goes into their hemp-infused CBD wellness products. They pride themselves on their choice of raw materials and the quality, as well as being consistent with their dosage and formulations. As a company, they keep everything transparent, and have lab results attached to each product. To get started selling wellness creations from Method Organics, visit their website at www.methodorganics.com or e-mail chris@methodorganics.com.
Method Organics
217 Quarry Road
Middlebury, VT 05753
Tel.: 802-989-7382