Sweater
This comfy and cozy sweater works great to keep users warm during the cold winter months while also keeping them stylish. The bohemian-chic style is sure to grab the attention of your customers this holiday season.
POL Clothing
Tel.: 310-715-1370
www.polclothing.com
Novelty & Fun Socks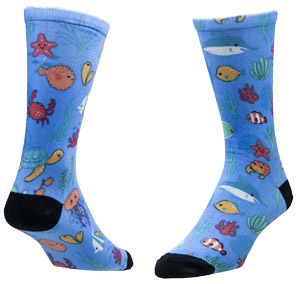 All USA made, these socks come in a variety of fun colors and patterns, including under the sea themed, firefighter themed, and camouflage themed. They are available in crew length and are one size fits all.
Alabama Wholesale Socks
Tel.: 256-845-4411
www.sockswholesale.com
Red Open Shoulder Ruffle Jumpsuit
This fun and flirty jumpsuit is great for fall outings and holiday parties. The fabric is made from 100% polyester, and available in sizes S-XL.
Wholesale Fashion Couture Inc
Tel.: 213-805-5554
www.wholesalefashioncouture.com
French Terry Off Shoulder Mini Dress
Newly added to Lovely Day's 2020 Holiday collection, this tie dye long-sleeved dress is great for a casual outing or a date night. The mini dress is available in Ivory or Navy and comes in sizes S-L.
Lovely Day
Tel.: 213-741-0758
www.wholesalecentral.com/lovely0002
Performance Heliocentric Print Leggings
With more consumers staying at home during COVID-19, athleisure apparel has been flying off the shelves as everyone exercises and works from home. These high-waisted performance leggings are perfect for hitting the yoga mat or the cardio machine. Featuring blue heliocentric print and figure supportive, skin tight flattering fabric.
YMI Jeanswear Inc.
Tel.: 323-581-7700
www.wholesale.ymijeans.com
High Rise Boyfriend Jeans
Available in graphite black, these rocky high rise jeans can complete any fall or winter outfit. Featuring a five pocket design, these jeans are just about as functionable as they are fashionable.
LA Showroom
www.lashowroom.com
Olive Solid Button Blouse
Complete with frills on each sleeve, any woman can feel fashionable wearing this fall blouse. Great for work or a night out with friends, this shirt can be worn almost anywhere. It's also made right here in the US.
Bloom Wholesale
www.bloomwholesale.com
High Rise Side Slit Released Hem Flare Jeans
Much of the 70's styles have been making a comeback this year, and these flared jeans are definitely one of them. The inner side slits of the jeans complete the look so consumers can have that extra flare with each step.
Flying Monkey Jeans
www.flyingmonkeyjeans.com
Leopard Overlap Oversized Hoodie
Let your customers bundle up in style with this leopard print oversized hoodie. Complete with a front pocket and a low cut, everyone will be reaching for this fashion hoodie.
andthewhy
www.andthewhy.com
Floral Jacquard Tulle Dress
Whether children are getting ready for a birthday party or holiday parties, this tulle dress is perfect for any occasion. The dress also comes with a sash in the back that can be turned into a beautiful bow. Available colors are red/black and mauve/purple.
Kid's Dream
Tel.: 213-748-5264
www.kidsdreamwholesale.com