The pandemic has drastically changed the way consumers shop, and as a result, brick-and-mortar retailers have pivoted to meet evolving needs. For some brands, this means creating co-working spaces inside of their storefronts — designing a place where customers can shop, grab a cup of coffee, have lunch with colleagues, and work remotely.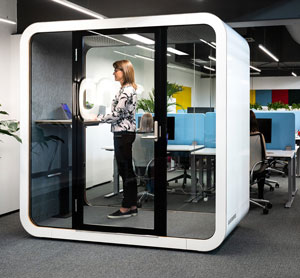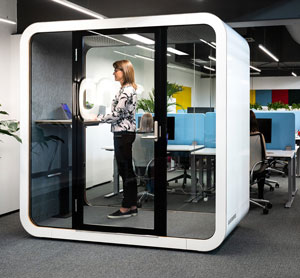 Installing Office Pods
Workplace product manufacturer Framery recently outfitted Beyond Us, an urban market in Sweden, with acoustic pods. The market offers customers a combination of shops, a coffee bakery, a temporary office space, and a welcoming meeting place. Looking to meet the diverse needs of their clientele, founder Petra Hodel Fryzell found the addition of a Framery Q office pod to be the perfect fit.
"People today need places to meet, greet, and get inspired," Petra Hodel Fryzell, Co-Founder of Beyond Us, said. "An inspiring place where everyone is welcome to just sit down for a nice cup of coffee, tic off the work to-do list, have a friendly chat, or to just charge their device. Beyond Us was developed to be that place. Our shoppers love and appreciate the diverse range of products so the Framery pod has been a sweet addition to our concept. Framery to us is simply a great match!"
Bringing the Comfort of Home Into Retail Spaces
The new Vettore collection from Studio TK alleviates the work/life balance by bringing in relaxed and comfortable residential design styles. The highly configurable collection is ideal for flexible mixed-use spaces, including intimate lounge settings, lobbies, reception areas, or even large pod areas.
"Companies are evolving to the changing culture of 'work anywhere'. Office spaces are getting smaller and becoming dedicated to social collaborative spaces and further from heads down work environments, which begs the question of where does that heads down work happen?" Dan Winer, Director of Marketing and Supply Chain at Studio TK, said. "As we have realized over the last year, it can be done at home, but there may be distractions there. Hybrid work may exit the home in the near future to find relief from those distractions into more retail spaces such as coffee shops or mixed use spaces which are being adapted to the nomadic worker. The need for more technology (faster WiFi, more power adaptation) to handle virtual meetings and the need for more individual spaces, such as tables with 1-2 chairs instead of 3-4 or comfortable lounges and sofas for extended comfortable spaces to scan through emails. The most surveyed response when asked 'what do you miss about not going to the office?' is the collaboration and socialization with colleagues, but it does cause rethinking of its purpose and how workers use it."
Make it Easy to Work From Your Store
The New Horizons collection from Kirei facilitates healthier interior environments that are visually compelling, acoustically balanced, and easy for designers and architects to specify. Acoustics have become increasingly important as people realize they do not sound clear on zoom calls, or—because people are standing further apart—they are creating louder, more echoey spaces. The New Horizons collection is an eco-friendly acoustic solution that caters to any commercial project's unique acoustic and aesthetic requirements.
"Great sound transparency and acoustics are essential to the new design of retail," John Stein, President of Kirei, said. "Whether it is keeping consumers in a store by making sure it is not too noisy or equipping a retail space for designer and manufacturer co-working, it is essential that small businesses are acoustically balanced. In addition, products like EchoEdge or EchoLine 45 can add a sophisticated architectural element to any interior, and wall screens like the AKUART Stand By Me can not only add functionality in terms of acoustics, but also help to structurally divide a small retail space to improve the flow of a business. Offering three premium acoustic wall products, EchoTile Vee, EchoTile Barcode, and EchoTile Geometry, all businesses and co-working spaces can now be outfitted with noise management solutions no matter how big or small."
All of these ideas are just some of the ways that brands are getting creative with designing brick-and-mortar stores to be more than just a shopping space. Give consumers an exciting reason to come into your store other than to just check out some new products.