by Yen Pedrajas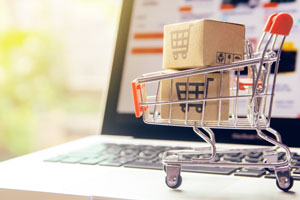 Online shopping rapidly grew during the height of the pandemic and continues to soar, and more small-to-medium sized businesses are shifting to ecommerce. Now is the perfect time to dabble in this flourishing industry. While most ecommerce businesses start small with only a handful of products, with the right opportunity, selling merchandise in bulk can give your business the chance to advance quickly. 
If you are looking to take the plunge into wholesale, here is everything you need to know in order to find the best merchandise to sell online:
---
What is a Wholesale Business?
First, you need to understand what it means to sell wholesale. This is when companies sell their products to retailers and other direct-to-consumer sellers instead of the individual shoppers themselves. Typically, wholesale companies lower the prices of their merchandise so retailers can purchase in bulk. This way retailers can mark up the price, selling it to consumers, and make a profit.
Wholesale can be thought of as an old-fashioned business model formed by large department stores, such as Walmart or Target. In more recent years, a whole revolution happened, and more individuals are exploring wholesale because of the several ecommerce marketplaces that allow business-to-business transactions. Online marketplaces such as Amazon and Wayfair attract those who are interested in creating a wholesale channel because of the many advantages:
Generate Big Orders
One of the best parts about being a wholesale supplier is the ability to receive large orders. You can even make a recurring income if you sell products that go into subscription boxes — it helps you maintain the momentum while also helping retailers sustain their inventories. With wholesale, merchandise is moved in a short period of time. You can sell dozens of items in one go instead of selling piece-by-piece, which means your income also comes in bulk, quickly allowing you to get your return on investment.
Lesser Risks When Entering New Markets
A series of associated costs is expected if you plan to expand your wholesale business. The setup costs typically include warehousing, logistics, and marketing to a new population. With wholesale selling, you can reduce the risks by cutting down on these costs and finding a retailer with an existing market. There is no need to invest in research and product development, and you can also save from not marketing to a consumer base.
Decreased Marketing Costs
Selling direct-to-consumer demands a large budget for marketing so that you can have a lot of orders, which means that every new customer has an allocated cost for marketing. On the other hand, the retailers shoulder the cost of acquiring new and repeat shoppers when selling your merchandise, so you spend less on launching marketing strategies for a smaller audience and can spend your budget on other aspects to help grow your business.
Reduced Impact from Market Shifts
The economy and market can shift quickly in a traditional retail business model, but this does not impact wholesale businesses as much. Instead, it relies on the shift in customer habits. When you choose to sell your wholesale merchandise online, there is a good chance that you have already sold most of your inventory before the shifts happen, making it easier to offer what shoppers are looking for.
Broader Brand Visibility
The downside of selling retail is that you have to focus on a specific audience or demographic, but with a wholesale business, you can naturally expand your customer base. Partnering with different retail brands with good reputations, for example, can lead to more business opportunities.
Lower Overhead Costs
The costs for storing, packaging, and individually shipping your products can quickly add up for retailers. With wholesale, you pay lower overhead costs because you store, pack, and ship in bulk.
More Time for Business
After the initial stages of building a wholesale business, all that is left is finding retailers to buy your merchandise. Once you have a decent amount of customers, you have more time to improve your brand, develop new products, or venture into other businesses.
---
How to Sell Wholesale Products Online
The wholesale industry is large, and you are not alone in your quest to discover how to buy and sell online. As a newcomer in this field, here are the steps that you need to follow in order to succeed:
1. Read Up on Industry Trends
Start with market research to see and understand what products are good to sell. Identify who your customers will be, find out how much capital you need to set up your business, and see if there are ways to lessen the workload, like signing up for the Amazon FBA program. There is so much to learn, so take the time and research the industry.
2. Register Your Business
Registering with a wholesale marketplace is among the basics of starting a wholesale ecommerce business — it will allow you to expand your reach since you can connect with an existing customer base. WholesaleCentral.com is a great marketplace to get started, offering a wide variety of easy-to-use features to help grow your business. Get started here.
3. Find a Domain for Your Business
Outside of posting up on a marketplace, you can also set up an ecommerce website for your company. A domain is one way to build a professional and credible online presence, which typically costs around $10-$20 per year, or it can be free if you have a web hosting plan. It is ideal to choose a domain that includes your business name.
4. Create Your Online Storefront
Design and build a wholesale store to showcase your business. An online storefront can attract retailers and manufacturers who might be interested in doing business with you. Shopify offers a password-protected feature, which will help ensure that you attract legitimate retail partners and prevent unaccredited buyers.
5. Set Your Product Prices
Calculating the cost of goods manufactured (COGM) can help determine your wholesale pricing strategy. The COGM includes the cost of materials, labor, and factory overheads. Divide it by the total number of units manufactured, and you will have the break-even price, or BEP. Selling wholesale gives you more flexibility with profit margins, so price your goods accordingly by looking at other vendors and checking how much they sell their merchandise for. Remember that anything you sell higher than the BEP is your profit, but also consider a price that will be attractive to retailers.
6. Learn How to Ship Your Products
You have the ability of choosing different methods of sending your products to your retail customers, such as dropshipping or sending the packages directly to their business. One of the easier ways is to ship through Amazon FBA and other similar wholesaler marketplace programs, since it eliminates the need to store and send out merchandise on your end.
7. Decide on a Minimum Order Quantity
Setting a minimum order quantity, or MOQ, will give you a clear idea of your profit margins. It should be high enough for you to generate momentum and low enough to encourage retailers to order again, helping to keep your business profitable while also maintaining a good relationship with your clients.
8. Write Good Descriptions and Use Good Images
Since you plan on conducting business online, you need to boost your presence with enticing product descriptions. This can help boost your SEO and increase trust with retailers so they know what they are buying. Include as much information as possible, such as technical specifications, product dimensions, materials used, and country of origin. You should also prepare high quality images so your customers can see all of the details easily.
9. Market Your Products
Even though you are not marketing directly to consumers, it is still important to utilize a good marketing strategy to entice retailers to place orders with you. Focus on your branding to make them see how exceptional your ship is compared to other wholesalers. You can even take your marketing efforts further by joining social media groups that are relevant to your business, as well as exhibiting at trade shows and festivals to expand your reach.
10. Gain Customer Reviews
Positive customer reviews and testimonials are great for your marketing strategies. In order to get these, provide excellent customer service, especially after sales, and always aim to deliver high quality products so clients can see the value for their money. It never hurts to ask a customer to write a review for your company.
Opening your own wholesale business might sound challenging, but it is easier to do when you follow the right steps. There are plenty of strategies that you can follow in order to attract retailers and ensure you gain a good footing.
Yen Pedrajas is the full-time lead of SEO at Removal.AI – an AI-powered background remover tool used to automatically remove background from images. She is also an eCommerce and digital marketing enthusiast who loves to share and write new insights and perspectives about marketing and growth hacking for startup businesses.