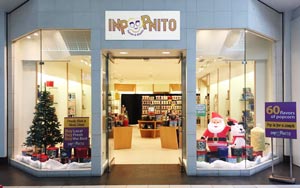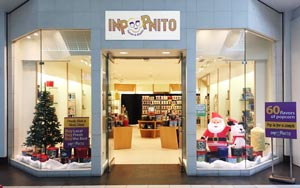 Starting with a small, seasonal shop in Massachusetts, Inpopnito has grown to have three different brick and mortar storefronts — and the best part is, they only sell popcorn. With flavors upon flavors with unique twists and names that will make you giggle, Inpopnito has turned one small seasonal pop-up into a corporation that now distributes nationally.
"We started out with our first market store in Massachusetts in 2013," Hal Miller, co-owner of Inpopnito, said. "Then in the following year, May of 2014, we opened a store in Newport, Rhode Island. We kept that store because that's where the business really took off. Our customer base grew rapidly from large amounts of buyers coming from the Northeast."
The Popcorn in Disguise
Hal and his wife share the ownership of Inpopnito. Just like any business, there's a unique story as to how the incorporation came to be. The idea for Inpopnito came from when Hal's sister-in-law, who has a retail store in Newport, had a relative visiting from Louisiana and said, "I make popcorn, it's great and it seems to be a good idea." Hal and his wife did some research with the relative's company and decided to create their own flavors.
Inpopnito now has about 135 flavors, with some seasonal ones that filter in and out. No flavor is left off the table with their "disguises," as the company calls them. They have everything you can imagine, from Caramel Espresso and Rum Runner (a buttery rum goodness caramel flavor) to Dill Pickle and Bacon & Cheddar. Vampire's Nemesis (a garlic flavor) gets the giggle seal of approval from Independent Retailer. More of their unique flavors can be found on their website at www.inpopnito.com.
Making the Most out of Customer Experiences
Two of the Inpopnito storefronts are in Rhode Island, and the other is in Milford, Connecticut. Hal and his wife ended up meeting many different people while working in the stores, and one particular woman from Milford absolutely fell in love with their product and flavors.
"In 2014, she said she would love to see us have a franchise, but we can't make the products fast enough for that and it wasn't the right timing," Hal said. "She stayed a good customer for us, so when it came time to test the franchise and make sure we could handle the quality control of the products, we already had a great customer base from the area, so we had that same woman run a store in the CT Post Mall and then eventually opened the one in Milford in 2018."
Testing the Waters
One of the major things that helped Hal's company prosper was creating test markets before opening physical storefronts. Just as the company's first physical presence was a holiday pop-up shop, Hal and his wife did three test markets and holiday stores in Connecticut as well as other New England states three years ago. Making sure to have a good customer base in a certain area is important before permanently establishing a business storefront.
All of the popcorn is still made in Massachusetts and is shipped to the other stores, and online orders are fulfilled from Massachusetts. The company's website was just launched a little over a year ago, but even with online orders now available, Inpopnito still makes more sales from their physical storefronts because of the amazing customer experiences they provide for consumers.
Buyers can walk in and try different flavors before making a final purchase. Inpopnito also offers a catering service for weddings and other events such as fundraisers and birthday parties. Customers can purchase large, fresh quantities of the popcorn for their specific event.
Can I Get Some Popcorn With That Beer?
Inpopnito is currently trying something new in Rhode Island and are working with different breweries to create flavors such as Double IPA, Peanut Butter Porter, Sour, and other new flavors specifically beer-oriented. There are a number of beer flavor series the company is testing, and the response so far has been great. Inpopnito is also currently in the works with breweries in Connecticut, so be on the lookout for some exciting new flavors!
Inpopnito
387 Thames Street
Newport RI 02840
Warwick Mall
400 Bald Hill Rd
Warwick RI 02886 (Seasonal Store)
In Connecticut
3 River Street
Milford CT 06460