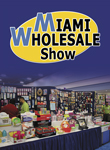 The Asia America Trade Show, now in its sixth year, is home to hundreds of exhibiting wholesalers that want to expand into the Caribbean and Latin American Market as well, as the South Florida and Southeast US Market. Based on the success in bringing in multi-national buyers from 43 countries, Asia America now has two shows a year. "Our executive committee has traveled through almost all the countries in South and Central America and the Caribbean to promote our sixth annual show," said Michael Finocchiaro, President. "We are working with more than 1,000 travel agencies to promote the shows."
The newest addition, the Miami Wholesale Show, just completed its second year and is heading into its third. The Asia America Trade Show is from September 27-29,2015, and the Miami Wholesale Show is from May 26-28, 2016. Both shows will be held at the Miami Beach Convention Center, with an average of 6,000 attendees, more than 225 exhibitors and over 65,000 square feet of exhibition area. For 2016, exhibition space will be doubled. Major companies such as Kole Imports have been exhibiting for five years, as well as many others. Asia America is the major wholesale show in South Florida, getting bigger every year. "We have more than 30 years of experience doing tradeshows in South Florida," Finocchiaro says. "We have developed an expertise in using Miami as the hub of the Americas. We utilize the infrastructure in Miami for banking, shipping, freight forwarders, and customs brokers."
Because of their expertise in these markets and multi-lingual office personnel from many different countries, Asia America prides themselves on personal service for each and every one of their exhibitors. The market itself is growing at approximately 10% in the Caribbean/Latin American area, which presents the perfect moment for reps and manufacturers to open up their market. "We will be setting new attendance records over the next few years. We invite wholesalers and distributors to come experience our shows," said Finocchiaro. "We have got big names that have been with us over the last six years developing the market, and now they have established a large foot-hold. As a result, they have acquired many new accounts." Products that range from apparel, toys, housewares, giftware, souvenirs, furnishings, outdoor, general merchandise, sports, specialty products, variety and value have all been successfully sold at these shows.
The company will also be announcing the inaugural launching date for the first Miami Apparel Wholesale Show very shortly. "We have a lot of apparel companies already asking for information about the show because we have established buyers, so it is going to be quite exciting for us," said Finocchiaro. Their meteoric rise as a major wholesale show has been noted throughout the industry as very impressive. The exhibitors want new buyers and new markets and the show brings them in. The show management has been continually expanding their attendee list to include some of the biggest retailers, importers and wholesalers in the business, making them the must go to show for the Caribbean, Central and South American and Southeast US Markets.
For information on exhibiting call 305-262-3200 or visit www.acsshow.org.