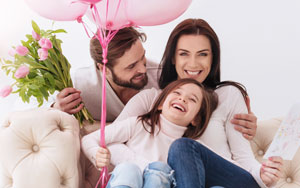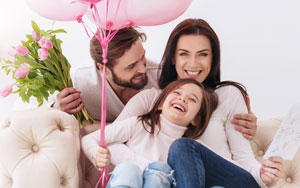 For all of those hard-to-buy-for mothers and fathers, for all of those relatives who say they already have everything they need, and for everyone who says they do not need any gifts, it can be a constant struggle for consumers to find the right present for them. Aside from the average gift box that will be tossed to the side and never used, they need something that will really 'wow' them and make them want to use the item.
This list is full of unique gifts for every type of mom and dad, no matter how hard or easy they are to buy for. Indie retailers — this is your time to shine and do all of the thinking for your customers, so browse our list and pick a few products to showcase in your storefront:
Mother's Day
Family Lath Hanging Heart
Made in the USA with a jute hanger, this hanging wall piece will tug on the heart strings of any mother. Complete with a lath finish, the weathered white paint gives this decor piece a nice rustic farmhouse look. It is further accented by dried vine and looks great in any room.
CWI Gifts
Tel.: 800-666-5858
www.shopcwi.com
Authentic Anatolian Art Bowls
The signature Anatolian art design from the 16th century with evil eye, flowers and bright colors is a testament to Kafthan's bowls' superb craftsmanship. Produced in Anatolia, each design is created after traditional motifs sourced from Byzantium, Greek and Turkish architecture and interior design elements. All bowls are hand glazed, hand painted, and are food safe.
Kafthan
Tel.: 919-491-6239
www.shop.kafthan.com
Dead Sea Anti Aging Peptide
Give moms the anti-aging results of a non-invasive alternative to injections and fillers for superior firming and wrinkle filling results in just minutes. This moisturizer and serum combo hydrates the skin on the surface and deep within the cell membrane. Pack that with a high concentration of Dead Sea water to deliver the peptides deep into the cells and voila, the best formula for skin rejuvenation.
Mindful Minerals
Tel.: 305-925-9987
www.mindfulminerals.com
Tangible Greeting Card Locket
This collection is designed as a high quality keepsake locket, holding handwritten notes and offering a personal experience beyond the imagination. It can be a keepsake for a lost loved one or just a simple love note to a mother on her special day.
Eternity Letter LLC
Tel.: 813-926-9214
www.wholesalecentral.com/eterni0002
Baby's Handprint Kit
Perfect for new moms or grandmothers, this kit includes everything needed to make an impression of a newborn's hand such as plaster, instructions, and a card to record the baby's name and date of the handprint. Retailers can choose between blue, pink, and green label colors.
Evergreen Marketing
Tel.: 410-653-2596
www.wholesalecentral.com/Evergreen
---
Father's Day
Belgian Craft Brew Kits
Home brewing of beer has been exploding because of COVID-19, and it can be super fun for fathers who are really into beer. Each kit comes with all the equipment needed to clean, ferment, and cap the pints, as well as all the ingredients carefully pre-measured and ready to brew. Simply add sugar and water and then follow the instructions for delicious homemade fresh beer.
Brewferm
www.brewferm.com
London Taxi Desk Clock
Perfect as a desk, nightstand, or dresser decor piece, this London Taxi Clock is a great Father's Day gift for all car lovers. Coming in a matte metal finish, it measures 4" wide and 1.5" tall. It also comes gift boxed in a tin metal box.
Stephanie Imports
Tel.: 800-334-8071
www.wholesalecentral.com/stephanieimports/store.cfm
Columbian Whole Bean Coffee
Give fathers the gift of coffee for Father's Day. This balanced, full-bodied medium roast has a smooth finish and is 100% Arabica coffee. It has flavor notes of caramel, plum, and chocolate, making it perfect for an Americano, Cappuccino, Macchiato, or a Latte. Part of the profifts go back to farmers in Columbia.
Norte Cafe՛
Tel.: 651-253-3730
www.wholesalecentral.com/nortec0001
NFL 2-Piece BBQ Steel Tool/Grill Set
Available in the NFL Denver Broncos, Oakland Raiders, Minnesota Vikings, and the New England Patriots, this set includes a spatula and tongs with the team name and logo on each tool. Perfect for tailgating, outdoor parties, or camping, these colorful BBQ tools will be a huge hit with Football fans everywhere.
Yong's Trading Inc.
Tel.: 210-525-9560
www.yongstrading.com
The Godfather Cooking Apron
Grill like a caporegime with this machine washable The Godfather Grillfather Cook's Apron. Designed for adults, this apron is one size fits all, made from 100% cotton, features a neck loop, and ties at the waist. To make things super convenient, it even includes a pocket on its right side.
EE Distribution
Tel.: 818-255-0095
www.eedistribution.com