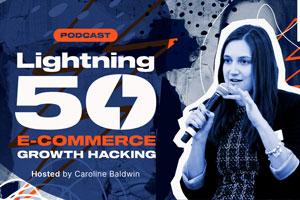 Brightpearl launched its first podcast, the 'Lightning 50 E-Commerce Growth Hacking' show, on April 21 in which industry expert Caroline Baldwin interviews retail luminaries from high growth companies in the UK. The podcast is a weekly 15-minute bitesize show that features guests who have made the cut for Brightpearl's 'Lightning 50,' a definitive list of the fastest growing ecommerce companies across the UK.
Showcasing Incredible Ecommerce Growth
"It is difficult because you do not quite know what to expect with something like this in terms of downloads or feedback, but it has been overwhelmingly positive and we have had hundreds of downloads already in the first two weeks, which is beyond what we expected," Mark Hook, Vice President, Global Brand, PR & Communications at Brightpearl, said. "The second episode on Holland Cooper had hundreds of downloads, and we had quite a few sign-ups to the podcast in general, which is a big audience for this type of content."
The combined revenue across the Lightning 50 list over the past year saw brands earn more than £340 million, with the average growth rate for online retailers at 518 percent. This year alone, online sellers have been seeing year-on-year sales increases of upwards of 700 percent, according to internal research from Brightpearl's 3,000 strong customer base. The company hopes to set the 'Lightning 50 E-Commerce Growth Hacking' apart by having Baldwin zero in on the specific strategic, environmental, and technological factors behind the growth of highly successful online merchants over the past year.
Preparing for an Even Bigger Season 2
The podcast will publish a total of 10 episodes for this season. Since the Lightning 50 list is based on UK ecommerce businesses in 2021, Brightpearl is planning to expand their 2022 season to both U.S. and UK ecommerce businesses. Entries are now open for the 2022 version of the 'Lightning 50' list, and online businesses who have seen huge growth over the past year are invited to register to be in for a chance of inclusion and recognition in the final list. Firms can enter on Brightpearl's website at www.brightpearl.com/lightning-50 and entries close on August 12, 2022. Brands must submit two full years of revenue data for 2020 and 2021 to be eligible for the Lightning 50, which is set to be revealed later this year.
"As we start to understand who the players are from those lists, we will be asking them if they want to appear in season two, with a mixture of U.S. and UK brands, that is expected to launch at the end of this year," Hook said. "We hope that season two will be a bigger series, but we wanted to see how this concept would play out. We spoke to a lot of customers and brands in the UK to understand their issues and struggles during the pandemic and give some love to them, and if it was successful, which it is, we would roll out to the U.S. as well."
For the time being, anyone can listen to each podcast episode for free on the website at www.brightpearl.com/lightning-50-podcast. The first episode featured an interview with the Swansea-based premium drink brand, Au Vodka, revealed as the fastest growing online brand in the 2021 edition of the league table. Other episodes welcome Fashion mogul Jade Holland Cooper, founder and owner of the Holland Cooper, a luxury tweed brand; Lauren Juster with Biscuiteers, a biscuit company, and more.