Filled with tons of exhibitors, products, talks, awards, and even runway shows, the 2020 NY NOW Winter Market was a huge success for both buyers and sellers. With a little more emphasis on artisan and Made in America goods, the event was filled with many different artisan talks and unique products. If you're looking for a refresher or weren't able to attend, don't worry. Here are some of the top products we found at NY NOW Winter Market:
Hand Stitched Needlepoint Pillows
Needlepoint pillows are a beautiful expression of hand artistry and timeless beauty. Michaelian Home has an extensive collection of these designer pillows with bold colors and designs.
Michaelian Home
Tel.: 800-258-3977
www.michaelianhome.com
Charmed Simplicity Necklace
Moonglow specializes in creating stunning jewelry featuring a picture of the moon from the date of your choice. And like the moon itself, these awe-inspiring lunar phase charms catch the rays of the sun by day to illuminate in darkness, creating a softly inviting glow that will surely be a conversation starter!
Moonglow
Tel.: 888-707-9083
www.moonglow.com
Sage & Lavender Bath Soak
These best-selling bath soaks are handcrafted in Indianapolis, IN. A small handful of the salt can be added to a warm bath whenever your customers need a little help relaxing after a long day. Made of a soothing salt blend to help purify and soften skin.
Harper + Ari
harperari.com
Unique Body Creams
These specially curated body creams are made for all areas of the body to feel smooth and moisturized, for both men and women. Each cream is made with pure botanicals in the family lab right here in the USA.
Mayron's Goods
Tel.: 877-804-2229
mayronsgoods.com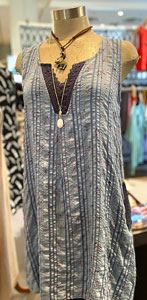 Flower Print Dress
This lovely flower print dress features a beautiful knit design at the top as well as knit pockets on the sides of the shirt. Perfect for the spring and summer months, this dress comes in a variety of colors and sizes.
Yak & Yeti
www.yaknyeti.net
Amethyst Crystals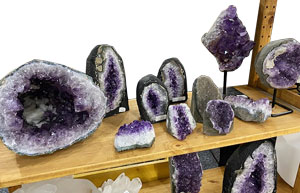 Nature's Artifacts Inc. has a beautiful line of Amethyst crystals in all shapes and sizes, including cluster candles, geodes, stand up crystals, salt lamps, and so much more. Most of their crystals are hand carved from Brazil to show the elegant display of mother nature.
Nature's Artifacts Inc.
Tel.: 888-895-3017
www.natures-artifacts.com
Anisnap Watches
These cute children's watches are made from smooth silicone bands which are extremely comfortable to wear. To put on, simply snap over the wrist and watch it wrap around. There is no buckle, and it sizes to its wearer, so there will be no pinching or fitting too tight.
Amonev
amonev.com
Wabi Sabi Candles
Paddywax's latest collection finds beauty in imperfection. These 12 oz. matte, ceramic bowls are food safe, and make great rice or dipping bowls once fully burned. Wabi Sabi comes in five sophisticated fragrances with dust covers. The different scents include Sparkling Bergamot, Pink Opal & Persimmon, Amber & Smoke, Evergreen & Embers, and Lavender Mimosa.
Paddywax
Tel.: 866-723-3992
paddywax.com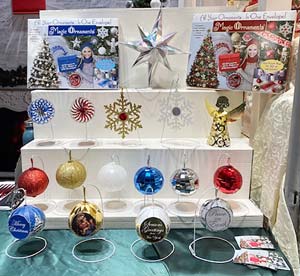 Magic Ornaments
Magic Ornaments™ are the solution to the problem of bulky, fragile Christmas ornaments. A total of 40 ornaments, plus the ribbon, fit into just one envelope. These ornaments collapse down flat in seconds and are made from durable plastics and cardstock, so they will last for many years.
Magic Ornaments
Tel.: 818-631-4705
www.magicornaments.com