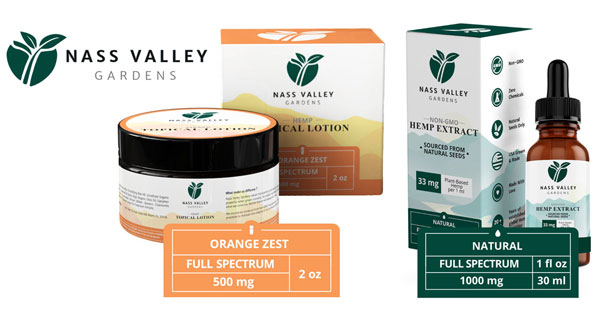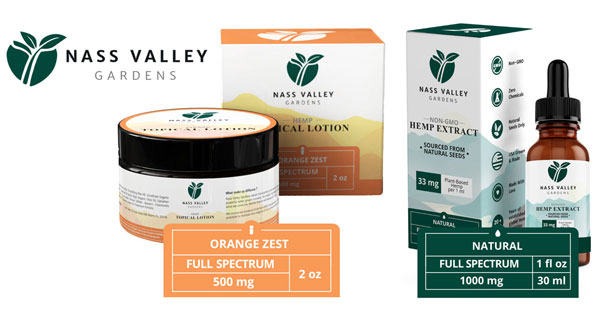 This pandemic has caused many people unwanted anxiety, stress, and sleeplessness, among other pain points. Because of this, research shows that consumers have been turning to CBD to help ease this stress and in turn caused a spike in sales. As retailers look to keep their shelves stocked after the busy holiday season, let Nass Valley Gardens be your source for high quality CBD products.
Natural, Organic & Non-GMO
No matter how hard humans try to improve and modify what we consume, nature still and will always do it best. That's why Nass Valley Gardens believes their non-GMO seed is what makes their products so incredible. Sourced from only natural seed, Nass Valley uses organic, safe and efficient practices to maintain the integrity all the way through its creation.
Why stop at organic seeds? Nass Valley Gardens is 100 percent committed to organic, regenerative hemp farming practices that protect biodiversity and reduce atmospheric CO2. The company's food-grade organic whole-hemp extraction process is also USDA Certified Organic. These distillation and ultra-filtration processes help to achieve the highest level of purity.
New & Innovative Products That Actually Work
Nass Valley Gardens is your most trusted source of high quality, affordable, and high-efficacy Hemp-infused products. Their scientists have over 20 years of experience in creating products that work. Offering both human and pet hemp items, the company's full line includes tinctures, softgels, gummies, topicals, and pet tinctures and treats.
One of Nass Valley's best-selling products is their Full Spectrum Hemp Extract Tincture. Each 30ml bottle contains 1,000mg of plant-based hemp, equaling to 33mg per 1ml drop. The certificate of analysis can be found on the company's website under the product, showing the results of the testing done and exactly how much CBD is in each bottle.
Highest Quality of Standards for Testing
Over 300 tests are performed on Nass Valley Gardens' products to make sure they deliver merchandise that is pure, clean, and made for love. They utilize rigorous testing methods, from genetics and planting to extraction and distillation and blending. They then employ a third-party lab test to every lot. The company's dedicated lab filled with personal care experts is what helps them deliver quality products to their customers.
The market is saturated with CBD products containing crops farmed from Forced Feminized seeds, which is not what Nass Valley Gardens is about. They want customers to get the best bang for their buck as you do, so check out their website today at www.NassValleyProducts.com and deliver only the best to shoppers without breaking the bank.
Nass Valley Gardens, Inc.
Tel.: 888-515-4201
www.NassValleyProducts.com