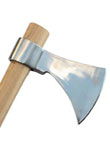 Looking for the perfect product for the grown up kid or budding outdoorsman with a flair for the dramatic? Then look no further than a precision throwing tomahawk. Offered by ThrowerSupply.com, a division of KCW Holdings, LLC, based in Springville, Utah, the product is designed and weighted for throwing; no more bouncing off the target or hitting handle first. The product is made to fit easily into the hand and fly true, with sharp enough blades to stick into targets. They range in size from the 16″ "mouse" model to competition-grade 19″ tomahawks with polished blades and spikes.
The company grew up out of the passion of its founders. "We were introduced to tomahawk and axe throwing by a friend, back when we were teenagers," company President Chris Watkins says. "We have been throwing hawks ever since, and decided with our experience and product knowledge to make a business out of it."
Handmade from steel
The resulting product is a hand-forged throwing tomahawk that can also be used for splitting, chopping, and felling. "We have professional blacksmiths that hand make these tomahawks from steel," Watkins explains. "A throwing tomahawk is different from a standard axe in several ways. The head of the tomahawk slides up the handle, instead of being installed from the top. No wedge is needed on the handle to secure the head to the handle."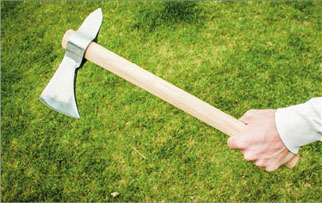 This means that the more the tomahawk is thrown, the tighter the fit between the handle and the head. "But they are also specifically designed for throwing, so the head and the handle are meant to separate upon heavy impact, in order to prevent the handle from breaking," Watkins notes. ThrowerSupply tomahawks are ideal for retailers who carry outdoor supplies and sporting goods. This includes summer recreational facilities that sell sporting goods, outdoor gear retailers, and hunting and recreation stores. Watkins says they are also a good fit for organizations such as the Boy Scouts and re-enactment groups. Tomahawks can be customized for larger groups, with custom branding, logos, colors and sizing.
Accessories and replacements
In addition to throwing tomahawks, the company also sells a complete line of accessories, including protective sheaths and replacement handles, because they can break upon hard impact. The firm also sells throwing axes and knives. ThrowerSupply products have appeared on the show,  Are You Tougher than a Boy Scout?, and they have been supplied to military groups.
Buying details
Products are best ordered from the company website, which features real-time inventory updates. Tomahawks retail for $35 and up, with competition tomahawks ranging up to $55 at retail. Wholesale prices are 40-50 percent below retail, and there is no minimum order. ThrowerSupply ships products within 48 hours of ordering, and also offers drop shipping.
ThrowerSupply
Tel.: 409-209-9575
Website: www.throwersupply.com