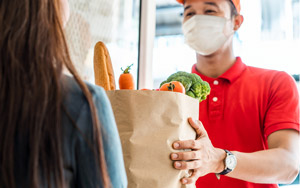 The impact of the coronavirus (COVID-19) has put many consumers and business owners all over the world on edge. With no foreseeable future on when this pandemic will end and the number of infections continuing to increase day after day, most brick-and-mortar retailers have closed their doors and are relying solely on online sales to stay afloat.
Boost in Online Sales
Because of all the brick-and-mortar store closures, many indie retailers are left wondering what this will mean for their business. For one, ecommerce sales have skyrocketed. Online sales have increased 52 percent compared with the same time frame a year ago, and the number of online shoppers has increased 8.8 percent since the coronavirus began, according to SaaS platform provider Quantum Metric.
Site search provider Bloomreach found similar increases for its 250-plus retailer clients, such as grocery chain Albertsons Cos. Online sales increased the week of Feb. 22-29 compared with the prior week for health related items. The coronavirus has increased sales for items such as face masks, hand sanitizers, disinfectants, bottled and packaged water, among others.
Remote Connectivity Can Help Retailers in Q2
Aruna Ravichandran, CMO/VP Marketing at Webex, says remote connectivity can help retailers in Q2 to not only monitor their businesses and attend remote events, but they can also use it to connect directly to their customers. "Customers from anywhere in the world can easily connect with a retailer to learn about their offerings, ask questions, receive promotions, buy products, and receive support," Ravichandran said. "With remote connectivity, every retailer can be an e-tailer and thrive in the future."
This Q2 trend is something that can definitely help indie retailers continue to thrive during these stressful times. Today's collaboration software such as Cisco Webex allows retailers to connect to online meetings with high resolution audio and video, screen viewing and sharing, messaging and chat, and more. It even offers features that retailers can't get from attending something live, such as access to a wide range of presentations and a library of rich conference content, according to Ravichandran.
eGrocery is Now More Popular Than Ever
As more consumers are staying home, many are turning to ecommerce to do their grocery shopping. "There is no question that as online penetration continues to grow, grocers are feeling the pressure to invest in ecommerce," Jose՛V. Aguerrevere, co-founder and CEO of Takeoff Technologies, said. "However, it is not enough to adopt just any eGrocery model. Grocery is a challenging and low-margin industry, meaning grocers need a solution that will position them for success. Many of the eGrocery models currently being tested are too expensive to be sustainable as online penetration increases."
Even without the coronavirus, it's clear that eGrocery is an emerging market and will continue to be successful in the years following 2020. Online grocery sales are projected to total $334 billion by 2022, globally. Max Pedro, co-founder and president of Takeoff Technologies, says grocers that are not investing in an eGrocery strategy are missing out on a growing population of shoppers who want the convenience of online shopping, and will go elsewhere to get it.
There's no question that these are trying times for small businesses everywhere, but all that can be done at this point is to keep trucking on and know that better things are soon to come. There are many different relief services for retailers, such as this resources page from the Small Business Administration: www.sba.gov. The National Retail Federation is also posting daily updates on their website at nrf.com/resources/retail-safety-and-security-tools/coronavirus-resources-retailers, so stay tuned for updates.