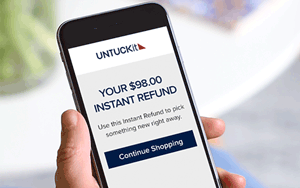 Returns have always been a touchy subject for retailers. You have to know your battlegrounds and find that sweet spot to not only keep customers happy, but also to keep your store up and running. Returnly, the post-purchase payments company for retailers and brands that care about customer loyalty, is changing the return experience for the better for both the customer and the brand.
According to Eduardo Vilar, CEO of Returnly, a company dedicated to helping online retailers and brands bring frictionless returns to the modern shopper, the biggest pain point for retailers is assessing the product's resalability when approving a return. If a customer is getting a refund in-store this isn't a problem, but for most ecommerce sites that are trying to keep up with the giants by offering free returns, they might not know what they're getting back.
"We envisioned that we can be that middleman and offer shoppers a merchandise credit that will be refunded immediately into their account so they can make another purchase that same day," Vilar said. "We founded this company to help merchants offer this credit capability for shoppers to create a better shopping experience."
Return Deliveries Hit Hard
The basic ecommerce statute is to offer free returns or exchanges – without them, the customer is 99 percent likely to shop from somewhere else. According to Returnly, two-thirds of shoppers check the return policy before making a purchase. Many consumers feel it is already a gamble to make an online purchase since you can't see or feel the product in person, so why waste your time when you might have to shell out even more money to ship it back?
In 2017 Statista reported that in the U.S. alone, return delivery costs amounted to $381 billion and is expected to reach $550 billion by 2020. To keep customers happy, ecommerce retailers have to offer free shipping on returns. In offering free shipping, retailers have to front the return delivery costs themselves. Returnly offers an alternative to both shipping costs and the quality of the returned product.
The Silver Lining of Returns
"Shoppers can go to a retailer's website and click on returns and from there, they can enter the items they want to return." Vilar said. "They select the items they want to return, why they are returning them, and we will leverage our own data to determine whether or not those items qualify for a returnless refund."
The company ultimately helps shoppers get their return money back quicker while ensuring retailers still get their sale. By giving the customer an immediate store credit to use seconds after they make an online return, it creates an ultimate shopping experience for both the consumer and the brand.
Returnly connects to the retailer's shopping cart and powers their return policy and refund portal, without the hassle of setting up a completely new policy. From there, Returnly takes over the logistics of the return.
This is where things get interesting – after the customer is qualified for the return, they will be brought to a confirmation page that will let them know they don't actually have to return anything. The shopper will instead be told that they are issued an instant store credit refund, at the cost of the retailer, that can be used immediately and they can buy a different product using the credit.
The customer can, of course, opt out of this option and instead ship the product back and return it under the retailer's regular return conditions. Consumers also have the option of doing an exchange, where a retailer can work with Returnly to send pre-printed return labels directly to the customer's mailbox. Returnly helps retailers settle exchange orders in real-time, making sure the right items get fulfilled before going out of stock.
Vilar says for the most part, they see consumers buying from the retailer again. On average, retailers are saving eight to ten dollars on shipping costs and they don't have to worry about staffing a warehouse to dispose of the returned items. This helps make happy and loyal customers.
Don't Worry, It's Not Brain Surgery
Returnly makes decisions about who will be offered instant credit or "returnless refunds" based on shopper behavior. In other words, it's not based on a credit score or anything like that, instead it's based on whether or not the consumer is a "good or bad" returner. It's hard for independent retailers to know anything about a customer's return behavior, so Returnly uses data from across its network to make the ultimate decision.
This is a value that helps the "little guys" compete with ecommerce giants such as Amazon. By looking at a shoppers' return behavior across a network of thousands of merchants, Returnly uses this data to make real-time decisions on who will be offered instant returnless refunds.
Another Go Green Initiative
The best part is, returnless refunds help the environment as much as it helps shoppers. Especially when dealing with returns for cosmetics, beauty products and lingerie, most of the time the retailer can't resell the item and it gets thrown out. More than 5 billion pounds of retail returns end up in landfills each year and on the e-commerce side, there's also the environmental impact (emissions, packaging, etc.) and cost of needlessly shipping products back and forth, according to a Returnly press release.
This completely eliminates the waste in the old (and until now, only) way of doing things. And at the same time, it builds a ton of appreciation and loyalty for a brand and saves money on the cost of transporting and processing a return. There are a number of retail brands already implementing this including THINX and 100% Pure Cosmetics. They might just be the start of a new trend in retail "refunds."