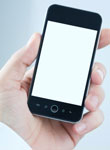 Mcommerce sales from mobile devices are forecast to approach nearly $52.17 billion in 2014. $17 billion of that will come from smartphones, and the remainder will be split between tablets and other mobile devices. Many online retailers have already adapted their sites to produce a mobile ready version that is poised to take advantage of this opportunity. Until recently, the preferred method of capitalizing on this growing trend was to develop a separate, standalone mobile site or application, as it is often called. So far, this has been an acceptable approach, but it is now being rivaled by a new technique called responsive design. With several differences, the new technology is said to have even better SEO benefits than its predecessor.
Standalone costs less than responsive
The traditional mobile application is a copy of the current website, designed and programmed in a way that optimizes the pages to be delivered on a smaller scale to users of mobile devices. This is typically done using a script that checks the browser and operating system before the pages are served. If the script detects a mobile device, then it serves up the mobile version of the site. A standalone mobile application might be a good idea if development costs are limited.
On the other hand, a responsive design reacts in real time to optimize everything on the site in relation to the screen orientation, vertical vs. horizontal, and size, regardless of the device accessing it. A responsive website does not need to reside in a separate operating space, because the design is built into the website itself. Responsive designs can be costly to implement, and it often takes a good reworking of the entire framework and backend programming of the website to achieve it. As a result, early adopters will likely be larger companies with budgets able to withstand the investment.
Domain protection
Mobile sites reside within their own unique domain, separate from the desktop version, usually at a domain like mobile.somewebsite.com. This can cause possible SEO issues by watering down the original domain, and might require more maintenance, as there are two separate areas where content must be managed. Responsive designs allow the current domain to stay intact. The only thing that changes is the backend programming.
Link weight
Because mobile sites are housed on a separate domain, the SEO weight that links typically would hold is lost, and there is no equity credit rewarded by the search engines. Since a responsive site is nothing more than the original desktop version with added backend programing, the links remain the same and thus are included in credit toward the domain by search engines.
Future ready capability
With the fast pace of emerging phone and mobile browsing technologies, a mobile only version of a website may have to be reworked to fit updated needs. The responsive design works across all platforms regardless of device, screen size and operating system. Therefore, a website based on responsive design will likely outlast mobile versions and cost less in maintenance, while at the same time work no matter what new mobile innovations arise.

And the winner is…
It is tough to say which technology will prevail, but it is a good bet that in time the responsive approach will take a stronghold. However, given the nature of the budgets needed to implement that option at present, it is also safe to say that the traditional mobile only site will not fade away anytime soon. In the end the option that wins is the one that works best for each individual online retailer, and this is going to be different from one brand to the next.