Like a dog drawn to a bone, millennials are drawn to anything with a "go green" initiative. As soon as someone says, "made ethically and sustainably sourced," consumers' ears perk up and they stand to attention, ready and willing to learn however else a retailer goes green. This is the pinnacle of the millennials, and seems to be spilling into Z-Generation as well.
Many retailers and food chains are showing their own ways of going green. According to BBC News, Starbucks is planning to ban plastic straws in all of their stores by 2020 to help reduce plastic pollution. In place of straws, customers will be given plastic lids with an open hole at one end for easy consumption. The food chain Bon Appetit is also banning plastic straws and stirrers at more than 1,000 of their locations.
Indie retailers, such as ColieCo and Sharon Z Jewelry, are go-green superheroes by hand-making all of their products with recycled materials and purchasing their supplies from local, independent suppliers. ColieCo, a lingerie company founded by Nicole Neaber in Sagres, Portugal, has a strong commitment to their environment while also keeping their designs fun and striking. In Nicole's words:
"We use recycled, re-used and reclaimed fabrics, minimize waste, and work with line ends and local suppliers wherever possible to control our carbon footprint. We only use biodegradable and recyclable packaging and are always working on new ways to make our studio more green."
Their small, home-based studio is run by Nicole and Al Neaber, who handles the books and the packaging while Nicole makes the products. They have been selling on Etsy since 2012, but just launched their website, www.coliecolingerie.com, in January 2018. Since everything is handmade, they also do custom orders so all body types are welcome to try their clothing.
Sharon Zimmerman and her firecracker personality founded Sharon Z Jewelry (www.sharonzjewelry.com), a jewelry company where all of her products are handmade from recycled metals and purchased from a local, family owned business. She also offers recycled diamonds and antique diamonds in her collection, which have been pulled from old jewelry and re-purposed. In Sharon's words: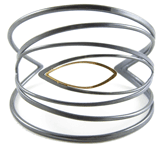 "I derive peace of mind from working with materials that coincide with my values as an artist and as a human being. Having been a metalsmith for over 10 years, I have come to understand the issues and complications around conflict-free stones, where they are mined and how laborers are treated. In my opinion, 'conflict-free' stones are a dubious ideal and they cannot feasibly be tracked in today's market. So I have chosen instead to work with laboratory-grown stones from the American companies Chatham and Diamond Foundry."
Just like ColieCo, Sharon Z Jewelry also offers custom-made orders and can remake a client's antique or vintage jewelry. Their working studio is located in San Francisco, CA and their jewelry is also sold at independent boutiques, galleries and shops across the U.S.
Retail giants such as Target and Victoria's Secret also have green initiatives within their stores. Target offers a 5-cent-per-bag discount at all of their stores for customers who bring reusable bags. Victoria's Secret has a program where customers can bring in their old or used bras and get a $10-per-bra discount off their next bra purchase.
If, by now, you are starting to feel empowered and would like to implement some go green initiatives in your indie store, here are some tips:
Sell more organic and made-from-recyclables products. You can find products like those from ColieCo and Sharon Z Jewelry to sell, amongst the other many brands that also manufacture from recycled products.
Offer a discount for customers who bring their own reusable bags. You can also sell reusable bags at your store. Print your logo or a cute design that goes along with what you sell in store on the bags.
Opt for digital receipts. A lot more retailers are switching to digital receipts, so now might be a good time to join that bandwagon and also help the economy.
Make sure to promote yourself after making any go green changes with a friendly email to customers. It gives consumers a reason to shop there while also saving you money on packaging. The best part about all this is you are helping the environment along the way.