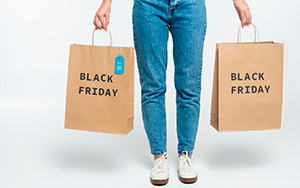 With retailers looking to entice shoppers back through their doors after months of disruption, Black Friday is the perfect time to get them excited. Despite the uncertainty of the Delta variant, many consumers plan to do their holiday shopping at brick-and-mortar storefronts this year, so get ready to supply a lot of in store promotions!
"Due to consumers spending more time indoors in the last year and a half, physical stores remain the key hub for retail," Payal Hindocha, Director of Customer Engagement Solutions GTM at Emarsys, said. "In fact, 50% of retailers say in-store will be an important commerce channel for driving revenue from customers in the run up to the next big retailing event of the year — Black Friday. It is true that online has been a great alternative for driving revenue while physical stores have been closed and comes with strong advantages when it comes to effectively collecting customer data. However, physical stores still drive the most profit and give consumers the greatest satisfaction."
Shoppers Motivated by Price
Price is clearly a strong motivation for shoppers across the world. According to new global research from Emarsys, over half (58%) of respondents admit to switching products if a cheaper option is available and a further 53 percent will shop indiscriminately, depending on their circumstances. Hindocha says that while discounts and rewards are great ways to make a customer feel like they have snagged a bargain, the key for most retailers is to focus on keeping these consumers coming back again and again, rather than only shopping with you for a cheap deal. Loyal customers can provide more revenue than one-time customers.
Poor Visuals & Slow Websites Make for Negative Experiences
In order to make the most out of Black Friday, retailers need to make sure their website is functioning at its best for those who wish to do their holiday shopping online. According to a customer experience study, more than 55 percent of online shoppers aged 18-24 think poor product photos and slow website loading times are intolerable. They find these aspects much more frustrating than other customer segments.
Identify Trends Well in Advance
"Ahead of Black Friday, Cyber Monday and the festive period, sellers will be looking to optimize their product revenue and should start planning well in advance," Kenny Tsang, Managing Director of PingPong Payments, said. "You will also want to diversify your supply strategy, and so first, sellers should assess what is trending to identify the products and tap into new lucrative markets. To minimize disruption as the seasonal shopping period approaches, some areas in which sellers could focus on are highlighting free shipping if applicable, return policies, and preferred payment methods to ensure shoppers go through with their purchase."
Make Your Store a Safe Environment
There is continued pressure on retailers to ensure that stores are safe and that customer experiences are as risk-free as possible. According to Hindocha, it is more important than ever for retailers to plan ahead and provide the very best in-store shopping experiences — not just during Black Friday promotions, but throughout the whole of the quarter, and beyond. Brands can do this by offering touch-free payment methods, buy-online and pickup-in-store, encourage the use of facial coverings, and provide hand sanitizing stations throughout the store.
"While many sale seekers will stick to online shopping this year, our research does suggest that shoppers have missed the benefits of physically being at the mall. Over a third (35%) of Americans shop in-store because they like to physically touch or try on products — something which cannot easily be replicated online," Hindocha said. "As the world starts to get back to normal, retailers can expect to see footfall to increase once more as we look to the long-term future. This means that, despite the serious knock that brick-and-mortar retailers have taken in the last 18 months, physical stores will remain a key channel for sales and customer engagement."