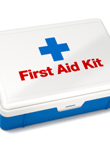 The intent of National Preparedness Month, held each September, is to encourage Americans to prepare for disasters or emergencies in their homes, businesses and communities. The key is to take action to be prepared, not simply write plans or hold discussions. When it comes to preparedness, retailers have a dual mission: to ready their own organizations for emergencies and also to support other businesses, families and individuals in their efforts to be prepared. September offers a great opportunity for retailers to make preparedness a primary issue in their own organization and throughout the communities they serve.
From power outages to natural disasters, weather emergencies and business interruptions, no two emergency situations will unfold in the same way. Being prepared means having basic knowledge, key procedures, and life-saving supplies on hand, at the very least, to buy some time in an emergency. While the response to an emergency means something slightly different to a retail organization than to an individual, the premise is the same: to protect people and property first, and then strive to return to "life as usual."
Often times one of the most difficult components of being prepared is realizing the risk is real. It is human nature, enhanced by our Western culture, and far too easy to dismiss the chance that something bad could happen to you or your store. But bad things happen and they can happen to anyone. As this article is being written, Hurricane Irene is posing an imminent threat to as many as 65 million people on the East Coast.
Irene's projected path, according to most computerized models that show unusual agreement at this stage, had it bringing misery to Washington, D.C., New York and Boston. By the time you read this, Irene will have delivered her blow. Just remember, a few days before she struck, no one in her current path was worried about a hurricane because they either were ready or they chose to ignore the risk.
Retailers Preparing Themselves
Sometimes you have to help yourself before you can help others. A recommended first priority in September is for retailers to evaluate their own ability to respond to an emergency. This may include a strategic review of the core aspects of the organization's emergency response and operations plans. Are directives simple and clear? Are the priorities during an emergency clear? Has training been conducted to ensure that key employees know how to successfully lead different emergency response efforts such as an evacuation, shelter-in-place and administration of first aid?
Retailers may also opt to put in place audits to verify their preparedness on a tactical level. Without once-a-year testing, it is quite possible that critical equipment could be dysfunctional or that items intended for emergency stocks have been depleted or misplaced. Are the first aid kits fully equipped? Is emergency equipment working and do people know how to use it? Are extra batteries, water and other basic supplies on hand? Is the employee emergency contact list updated and accessible? A quick audit can ensure that needed supplies and information are readily on hand.
Retailers that are prepared for an emergency not only protect their employees, customers, their brand and assets, but they also increase their own ability to return to operations following a disaster, which will allow them to offer tremendous, potentially life-saving assistance to others.
Helping Others Prepare
Providers of needed supplies, retailers are also in the unique position to help individuals, families businesses and other organizations increase their level of preparedness. By spring boarding off of educational campaigns like Ready.gov, retailers can help others prepare by offering easy access to emergency supplies. End-caps specifically displayed with information about preparedness tips and equipment may help guide consumers to materials they may not have thought of to prepare their own homes and business for the unexpected. Items such as batteries, weather radios, flashlights, medications, bottled water, personal care items, blankets and canned foods are just a few examples of supplies that Ready.gov recommends keeping on hand in case of emergencies. Because consumers are in regular contact with retail stores, retailers have a unique ability to raise awareness of National Preparedness Month and as an added benefit; retailers can experience a nice lift in sales for some items with great margin.
Eric White leads the retail strategy practice at Wren, providers of physical security solutions used by some of the world's most innovative and respected retailers.  White has 20 years experience in loss prevention, asset protection and physical security, having served at Walmart and The Home Depot.White writes about his experiences in the Wren blog.  To learn more about Wren's solutions, visit www.wrensolutions.com.