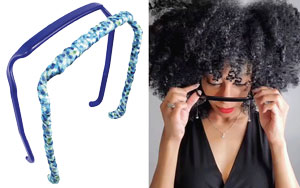 Intrigued with the way her glasses looked while holding her hair, Janet Laster Purkey MD invented Zazzy Bandz, a reimagined and innovative headband designed to "fit like sunglasses," providing lift and style without the headache of a traditional headband.
Great Pricing & Fast Turnaround
Available in a wide variety of colors and designs, patented Zazzy Bandz designs will have users wearing their hair down more often. Made right here in the USA, Zazzy Bandz are sold all around the world, with distributors in 22 countries and growing every day. They offer great pricing for retailers, fast turnaround, personalized service, a dedicated wholesale team, and a customizable MOQ.
Exclusive Patterns Available for a Limited Time
The brand is constantly introducing seasonal releases for the spring, summer, fall, and winter. In early March, they just released their exclusive spring collection, with beautiful floral accents and bright colors. These exclusive and unique designs only come once a season and do not get reused for next spring, so these limited edition patterns can entice your customers to buy now before they are gone and get them excited for what is to come for the next season. On top of the company's seasonal releases, they have basic colors and styles that are available all year long, such as black, espresso, blue, red, orange, white, and more.
Look Good, Do Good, & Feel Good
The business concept for Zazzy Bandz grows from Dr. Purkey and business partner Laura Barker's Christian faith. They are committed to supporting Christian ministry and philanthropic missions. Each purchase helps support the children and those who love and care for them at Peniel Centre Orphanage in Bulawayo, Zimbabwe. Peniel Centre caregivers provide not only physical, spiritual, and emotional nourishment, but also education through high school and beyond. Zazzy Bandz also works locally with A Hand Up For Women in East Tennessee. This incredible nonprofit provides a true helping hand for women, teaching them skills and enabling them to improve their circumstances financially, personally, and spiritually. This organization helps to make the wrapped Zazzy Bandz found on their website.
The company works hard to offer both retailers, wholesalers, and consumers a truly personalized experience. Zazzy bandz are sold everywhere from salons and boutiques to gift shops and hospital stores, and even offer a 30-day money back guarantee. To get signed up as a Zazzy Bandz retailer or wholesaler today, visit their website at www.zazzybandz.com.
Zazzy Bandz
Tel.: 607-661-5871
www.zazzybandz.com