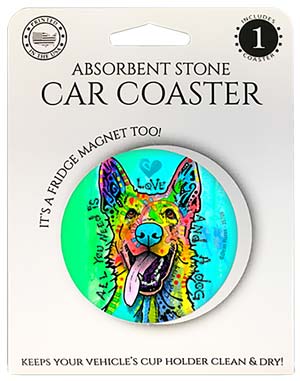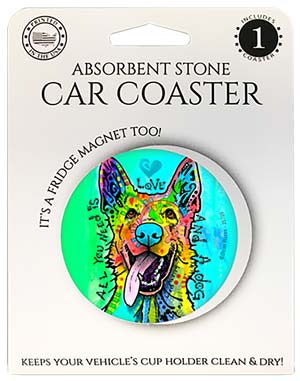 Get ready for summer road trips and memorable souvenirs! SJT Enterprises recently launched a new addition to their product line: Stone Absorbent Car Coasters. These new coasters have a magnet on the back so they double as fridge magnets as well as car coasters!
Now your customers can ride in style and have a little souvenir for the fridge from the places they've been. There are dozens of different styles to choose from, including beach themes, which can also be name dropped at no extra cost. You can add your store's name, the town or state you're located in, or anything else you like to make the perfect summer souvenir.
Each car coaster measures 2.6" in size and are printed and packaged right here in the U.S. The wholesale price is a mere $2, allowing retailers to sell them at a reasonable price and still make a decent profit. A free floor display also comes with your order, so have an easy setup and start selling to your customers right away!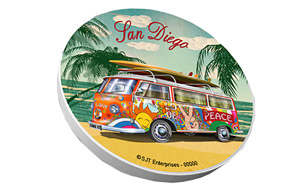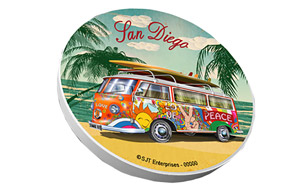 "Car coasters are huge sellers and ours are the best out there since they have a magnet on the back. Now it's a fridge magnet OR it's a car coaster," explains SJT president Tim Smith. "We are the only ones that have this available and they are available in a lot of different categories. Best of all, they are printed and packaged in the USA."
SJT Enterprises is a 35-year consumer products company, offering a wide variety of gift and novelty items produced right here in the USA. The company features artwork from many different artists besides Russo, including Stephanie Burgess, Smack Apparel and Ursula Dodge, just to name a few. All of their car coasters and more can be viewed at www.ThousandsOfSigns.com. Just type CAR COASTER in the search bar.
SJT Enterprises
28045 Ranney Pkwy. Unit B
Westlake, OH 44145
Tel.: 440-617-1100