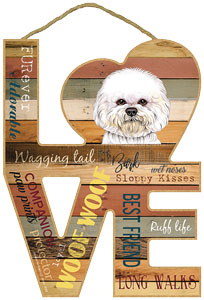 SJT Enterprises, home to thousands of different wood signs and plaques, recently announced the addition of new 8" x 11" wooden "Love" dog breed plaques. Perfect for dog lovers everywhere and parents of fur babies, these plaques feature the word "Love" with different dog breeds on them.
SJT Enterprises has been serving retail customers for 34 years, providing thousands of signs with different designs, all made in the USA and some handmade by local artists. Perfect for souvenir, artisan and handmade shops as well as boutiques and all other stores, these signs offer great profits and high margins.


Each new "Love" wooden plaque is made in the USA and offered at a low wholesale price of $4.75. They are still working on creating more dog breeds, and eventually there will be nearly 90 different breeds featuring the artwork of Tomoyo Pitcher. A free floor display is also available with orders.
"People LOVE their dogs and what better way to show that love than with our new wood 'Love' plaques," SJT president Tim Smith said. "Even though we're in the middle of a pandemic, people are still buying inexpensive wall decor. All our wood plaques are USA made including the MDF wood itself so you're supporting Americans when you buy from SJT."
To view all the different styles of the "Love" wood plaques, visit www.ThousandsOfSigns.com. Just type LOVE BY TOMO in the search.
SJT Enterprises
28045 Ranney Pkwy. Unit L
Westlake, OH 44145
Tel.: 800-326-7419