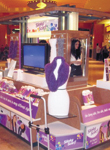 Everyone remembers the big Snuggie craze that began in late 2008, which became a full blown phenomenon by 2009. The Snuggie eventually went on to sell millions, and it's now the hope of, Eli Cohen, president of Slinky Scarf, that his new kiosk offering will become the Snuggie of 2011. "I first saw the Slinky Scarf in China, and was intrigued by it," Cohen says. "Here was a fashion product for women that could be worn a number of ways, yet was light and portable enough to be carried in a purse. It was genius," he says. Cohen purchased one of the unique items, brought it back to the states, and began extensive market testing and rebranding to see how buyers might react. "We held some focus groups and asked pointed questions," he says. "We really dug down deep to see what consumers did and didn't like about it. It turns out everyone really liked it; we further discovered the target audience is girls and women, ages 12 to 29."
The Slinky Scarf is described as a multi wear accessory that can be worn in more than 20 different styles. On SlinkyScarf.com, it's listed as being, "carry-able, flexible and multi wearable." Made of lightweight woven nylon, wearers say it's very fluffy and adaptable for multiple uses. "The Slinky Scarf can be worn in many forms and styles, such as a hood, scarf, vest, and even a possible skirt or dress," Cohen says. "It's about five feet long and stretches up to 30 inches wide, and can also be worn as a hat, shawl, vest, halter, and more."
The Slinky Scarf is currently available in 10 colors, including black, gray, white, purple, burgundy, blue, black and white zebra, pink and white zebra, coffee brown, and hot pink. New colors are already on the drawing board. "We're currently selling it not only to kiosk owners, but also to duty-free stores, gift shops and fashion outlets as well," Cohen says. "The demand has been amazing," he adds. "We're obliged to ship our inventory by air to keep up with the orders." A how-to video on the website shows models demonstrating the various ways the Slinky Scarf can be worn. It's easy to see why it would be a big seller. In one segment, a model drapes it over her head and shoulders for a fast, easy hood for colder weather. In another, a simple twist over the shoulders turns the Scarf into a vest that goes with any outfit. Stretch it out, and it becomes a warming shawl.
Cohen has also built a strong support network for new customers, providing a variety of POP and display options. "We have three different designs of display pieces," he says, "one for the floor, one for the countertop and one that's wall mounted." All are available at no charge with quantity purchases. "The floor model stands about five feet high," Cohen says, "holds up to 60 scarves, and has a monitor atop it that constantly plays a DVD showing how many different ways the Slinky Scarf can be worn." The countertop and wall mounted units hold about 20 pieces, and are also free for certain quantities. Cohen believes the Slinky Scarf will sell well, mostly because of its uniqueness. "There's nothing else on the market like it," he says. "We are the only company in the world to support the product with a vivid brand, nice colors, an instructional video and unique packaging. We think it's going to be a hit on every level."
The Slinky Scarf wholesales between $5 and $7 each, depending on the quantity ordered. "It's selling very well at retail," Cohen says. "My retailers are getting $19.99 to $29.99 apiece, depending on their business locations and foot traffic, and discounts are available for quantity orders." In addition to wholesaling the item, Cohen also makes himself available to help customers set up their kiosks for maximum traffic and sales. Besides providing the displays, his company can also supply the necessary graphics to draw attention to the product, and offers to work with any shopping mall where the Slinky Scarf kiosks will be set up. "We provide the raw materials and guidance," he says. "We recommend that kiosk owners set up a minimum of two video monitors, so passersby can see an actual demonstration of the product and get a better idea of the many ways it can be worn." Cohen is always available to give support and answer vendors' questions, either by phone or online. "We back our product all the way," he says.
So why should a kiosk owner consider carrying the Slinky Scarf? "I can give you a number of reasons," Cohen says. "First, you have a very low startup cost of only $1,400 for inventory, which includes a minimum of 200 pieces. The markup, depending on location, can be as high as 600 percent," he adds. "Then you have the video presentation, which shows exactly what it is and how it works. It supports your selling efforts and draws immediate attention." Cohen also notes that Slinky Scarves come in attractive packages with bright, vivid colors, and are sold as a complete kit containing the scarf, instructional DVD and a carrying pouch. "Because we anticipate them selling out fast, we can fill reorders very quickly," Cohen says. "Shipping time is fast, and we also do overnight deliveries if requested." So will the Slinky Scarf take off and be this year's "Snuggie" sensation? The only retailers who'll know for sure are those who carry it.
For more information:
Slinky Scarf
210 174th Street, Suite 2106
Sunny Island Beach, FL 33160
Tel.: 305-523-9658
Website: www.slinkyscarf.com