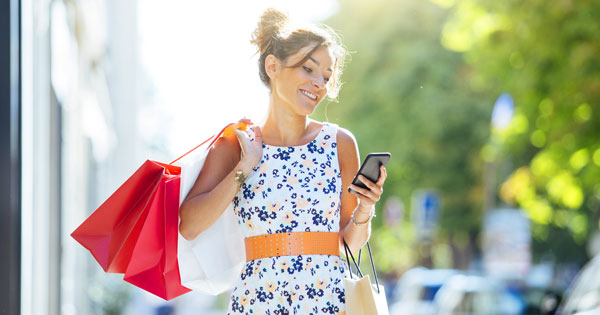 Before you know it, the holidays will be over, snow will turn into rain, flowers will start to bud and you'll be saying to yourself "spring has sprung." Everyone deserves a front row seat to the latest and hottest trends the new year will bring so you can keep your business thriving and successful.
Paving the Way for a Vaccine
The new year is already looking bright with a vaccine, developed by Pfizer Inc. and BioNTech SE, that is seeing huge success. According to Bloomberg, the shot prevented more than 90 percent of symptomatic infections in the trial of tens of thousands of volunteers, the most encouraging scientific advance so far in the battle against the coronavirus. While the results are preliminary, they may pave the way for the companies to seek an emergency-use authorization if further research shows the vaccine is also safe.
The closer we are to a fully functional vaccine, the closer we are to customers feeling safe shopping in stores again. When consumers are comfortable in their shopping environments, their confidence goes up and so does their spending, so retailers should not hold back when stocking for the spring and summer trends.
Prepare For a Transparent Supply Chain
2020 has been a defining year for transparent supply chains. Gartner, Deloitte, and McKinsey all echo that transparency is the critical first step towards understanding the source of current disruptions and getting ahead of future turmoil. Businesses that already had a transparency focus were far less impacted by the pandemic overall.
Preparing properly is one of the highest impact activities you can do to get started on your supply chain transparency journey. Supply Chain Brief offers a 2021 Supply Chain Transparency Checklist, where retailers can learn to create new levels of visibility into their supply chains to be fully prepared for the new year.
Use Influencers to Flaunt Your New Products
More and more brands are getting used to the idea of influencers and using them to promote new or existing products. They are completely affordable, and retailers are at least doubling their social media exposure, since most influencers have thousands of followers.
"Influencers can be a great way to get your brand's products exposed to an influencer's audience but the brand should make sure that influencer's audience has buying power" said Ryan Sauer, Director of Digital Marketing at PowerChord. "Meaning, if the product is a more expensive and higher consideration product than the majority of the influencer's audience needs to fit the right demographic including household income. Otherwise, the brand's products are getting a lot of exposure but not with potential buyers."
Smartwatches are the New Fashion Statement
According to a Coherent Market Insights study, the growing use of smartwatches as a fashion statement is an increasing trend in the market. The global smartwatches market is expected to value over $5, 97,264.4 Million by 2027 end and is predicted to grow at a CAGR of 53.6 percent during the forecast period of 2020 to 2027, as highlighted in the report.
A new survey found that responses to COVID-19 have speeded the adoption of digital technologies by several years — and that many of these changes could be here for the long haul. There has been an increase of technology use for students, office workers, retail workers, and businesses alike. Smartwatches can be a fashion statement your store makes for the new year and bring in a wider variety of consumers.
Consumers Are Reluctant to Pay the Sustainability Price
Sustainability has become a clear focus in the fashion industry as more consumers demand for ethically-sourced products. Brands like Levi's and H&M are setting science-based targets to reduce emissions and waste in their production, however, very few brands have actually found commercial success in this niche, according to Omnilytics data.
Despite the increased interest in sustainability, the data (there should only be one data) shows products priced above $50 from Levi's and Everlane failed to achieve a high sell-out rate at full-price. Patagonia, best known for their t-shirts and outerwear, was the only brand to maintain consistent sell-out rates across its range. The average price of products from the brands is $78. Ethically-made products are priced higher due to the cost of natural materials and fair labour.
This shows that brand value is a major influence on purchasing behavior. By marketing your brand the right way and proving to consumers that your products are worth paying m­ore for, retailers can have success with sustainable items.
New Year Fashion Trends
When it comes to 2021 fashion trends, there are plenty of styles to take into consideration when making bulk purchases for the spring and summer. Marie Clair's list of fashion trends for 2021 include items with accents on florals, feathers, wearing white before Labor Day, a comeback on bralettes, wide leg pants, and sheer and transparent pieces. Many of these styles are throwback trends from the 70's and 80's, so prepare for deja vu.
Since most consumers are working from home, jewelry has been overlooked for a large part of 2020. Because of this, retailers should expect an influx of jewelry purchases for 2021. Some of these trendy new styles include beach beads, pearls, metal textures, and long earrings.
Will women ever want to wear heels again? According to Marie Clair, it is looking like a yes, but in the form of stable platforms. Other spring and summer 2021 shoe trends include velcro sandals, fancy flip flops, and ballet flats. All of these styles and more can be found in our product selection below. Hopefully this can help give retailers a head start on their spring and summer buying!
Jude Loungewear
This is the perfect work-from-home outfit. The turtleneck top gives a classier appearance for Zoom calls, while the pants keep users comfy all day long and even into the night.
Lucy Paris
Tel.: 626-293-7189
www.lucyparis.com
Crochet Lace Bralette
Complete with adjustable straps and a smocked back, these crochet bralettes are a great accent to any spring outfit. Available in red, pink, baby blue, black, and white, there is a color to match every outfit.
CCWholesaleclothing.com
Tel.: 866-298-8402
www.ccwholesaleclothing.com
Butterfly Pearl Silver Necklace
This beautiful butterfly pearl necklace makes a great gift for Mother's Day, birthdays, or anniversaries. The butterflies give it a spring look while the pearls give it a touch of elegance.
Alamode Fashion Jewelry
Tel.: 800-622-4404
www.alamodeonline.com/en
Woven Block Platform Heeled Sandal
This fashionable, versatile PU and woven block, platform high heeled sandal is ideal for casual and warmer months. Composed with a 5.5″ high heel and a stable front platform. Available in black and brown.
Blossom Footwear Inc.
Tel.: 626-581-8837
www.blossomfootwear.com
Garnet Cabochons Earrings
These delicate earrings have that textured metal that is expected to be really popular come spring and summer, and the garnet stones are a beautiful touch to finish the jewelry. Made with sterling silver.
Esprit Creations
Tel.: 352-316-6130
www.espritcreations.com
Satin Lace Ballet Flats
The light blue color in these lacey flats will complement any spring and summer outfit. A small layer of fabric in the front of the shoe keeps toes hidden. Available in sizes 6-10.
Cheng's Enterprise, Inc.
Tel.: 800-886-3288
www.easyusa.com
Made in USA Bandannas
Western Express offers all different styles and colors of cotton bandannas, including paisley, camouflage, the American flag, and more. Bandannas make for a great fashion statement or work just as well as a face mask.
Western Express
Tel.: 800-245-1380
www.wexpress.com
Polka Dot Flip Flops
Complete with a large ruffled flower on top, these polka dot flip flops are the perfect summer accessory. Available in a variety of colors including blue/orange, black/pink, green/pink, and pink/blue.
R&M Wholesale
Tel.: 866-251-6878
www.wholesalecentral.com/ywengwholesale
Thin Rainbow Purse
Featuring a symmetrical design in a bouquet of bright colors, this beautiful cloth purse is a great accessory for a night out or a day out shopping with friends. The bright colors are perfect to go with the spring and summer months.
The Fair Share, LLC
Tel.: 631-561-7568
www.thefairshare.co/en
The Arizona Purse
The Arizona purse is decorated with three colorful tassels. This purse's clear backing conveniently allows wearers to text, answer calls, and perform other touch screen functions while the phone stays securely in the purse. The strap can be adjusted to a length anywhere between 34 inches and 62 inches. The purse can be worn as a crossbody, traditional strap, or fanny pack.
Save The Girls
Tel.: 800-862-4590
www.wholesalecentral.com/saveth0002
Assorted Color Flower Print Scrunchies
Flower prints are expected to be hot sellers come the spring and summer, and these hair scrunchies can complete the look of any outfit. Great for both children and adults, these scrunchies are available in baby blue, white, pink, and yellow.
Lee's Trade
Tel.: 616-452-6860
www.wholesalecentral.com/usamichiganwholesale/store.cfm
Sports Teams Adjustable Hats
Hats are a great way to keep the sun out of your eyes, and now you can offer your customers hats in some of their favorite sports teams, including the Alabama Crimson Tide, Atlanta Falcons, Arizona Cardinals, Denver Broncos, and more. All hats are officially licensed.
Patter's Collectibles
Tel.: 412-916-2456
www.patterscollectibles.com
Tote Bag
Large and in charge bags are going to be the hot commodity for the spring and summer, and this brown leather tote bag is a hot seller. Made with vegan leather, this tote bag even comes with a wallet, wristlet, crossbody and a strap.
E.W. Inspirations Handbags
Tel.: 518-423-7809
www.wholesalecentral.com/ewinsp0001