Now that states are finally starting to lift their stay-at-home orders, retailers can open their doors for business and tourists can enjoy buying souvenirs for their loved ones back home. Independent Retailer has a list of some of the top suppliers offering everything from beach-themed to outdoor garden products. Check out these exciting summer merchandise and get your customers ready for summer!

JEWELRY
Endless Summer Cowry Shell & Cord Pull Anklet
Add a splash of summer to your store with this single cowrie anklet. Featuring a gold enhanced shell on a tan cord with a pull closure, this is a simple accessory with a lot of appeal.
Zad
Tel.: 800-477-2216
www.zadwholesalejewelry.com

Coastal Charm Bracelets
This whimsical assortment of coastal themed charms is great to remember the seashore or warm summer days. Charms will be in the artist's choice of color and style, but will include a mix of Seahorse, Sand Dollar, Starfish, Palm Tree, Dolphin, Flamingo, Pail, Flip Flop, Mermaid, Sailboat, Shell, and Conch Shell.
Gleeful Peacock
wholesale.gleefulpeacock.com
Dragonfly Enamel Pin Brooch
The fresh, colorful design in this dragonfly brooch offers exceptional value at a decent price. This piece is nickel-free and silver-plated so anyone can enjoy wearing this beautiful brooch.
My Jewel Thief Inc.
www.myjewelthief.net
HOME DECOR
"It's Time Summer" Seahorse Display
This adorable wall sign is the perfect addition to any beachy-themed summer display. Measuring 15.75″ x 7.87", it also makes a great souvenir for any beach touristy areas.
DK Hawaiian Collection Inc.
Tel.: 323-516-6029
www.wholesalecentral.com/donko/store.cfm
Sea Urchin Vases
These sea urchin vases come in three gorgeous styles. All have assorted glazing, with blues and sea moss and are made of porcelain. Each vase has a bubble texture you can see and feel. One dozen assorted vases come in each order.
World Buyers
Tel.: 800-996-7531
www.worldbuyers.com
Beach Aqua Coaster Set
This set of four round marine life coasters are made of ceramic. Each one in the set has a different design and comes with a convenient compact holder to store the coasters when they aren't in use. Different designs include a turtle, starfish, seahorse, and coral.
Globe Imports, Inc.
Tel.: 407-290-0963
www.globeimports.com
LAWN & GARDEN
Sweet Summertime Solar Statue
As the warm weather continues to roll out, consumers everywhere are working on the outdoor look of their houses, with many creating gardens. This adorable summertime statue is the perfect addition to any garden. Featuring a rosy-cheeked girl and her friendly feathered companion, this statue also comes with a special hidden solar light to provide a lovely after-dark glow.
Sunrise Wholesale Merchandise
Tel.: 877-250-5045
www.sunrisewholesalemerchandise.com
Peacock Float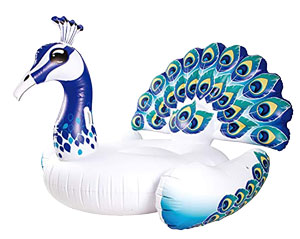 Perfect for both adults and kids, this ultimate pool float is a great addition to any backyard pool. It's big enough to fit two people sitting upright, so multiple users can enjoy it at once.
Palletfly.com LLC
Tel.: 347-450-1740
www.palletfly.com
Hummingbird Flutter Wind Chime
This charming wind chime features pretty hummingbird cutouts, gorgeous beads, metal chimes, and wooden accents at top and bottom. Let the summer breeze sing your customers a magical song!
Koehler Home Decor
Tel.: 866-669-6536
www.koehlerhomedecor.com
PARTY SUPPLIES
Assorted Hawaiian Leis
These fun light-up Hawaiian leis are perfect for party supplies or as a souvenir from any beach resort shop. Each order comes with assorted multi-colored leis, and the lights flash blue and red. Batteries come with each lei.
Blinkee.com, LLC
Tel.: 415-261-0675
blinkee.com
SLEEPWEAR
Starry Eyes Warming Mask
These masks are made of non-woven cotton and contain heat cells with naturally occurring ingredients (iron powder, vermiculite, activated carbon, salt and water) that activate when the mask is removed from its pouch and exposed to oxygen. The warming effect lasts more than 20 minutes, so your customers can drift off into a deep sleep. It's vegan, cruelty-free, biodegradable and all packaging is recyclable.
PopMask
popmasklondon.com
HANDBAGS
Summer Tote Bags
Available in blue, red, and yellow, these summer tote bags are a stylish and fashionable multi-purpose bag. It can be used for a casual outing, a day at the beach, or travel.
Dallas Wholesalers
Tel.: 940-382-8100
dallaswholesalers.net
HOUSEWARES
Arctic Chill Towel
The Arctic Chill Towel is an evaporative work/sport towel that allows users to feel cooler as the summer temperature rises. No refrigeration needed! Just dampen and give it a shake. Available in blue, orange, pink, and light green.
Evergreen Marketing
Tel.: 410-653-2596
f4green.com/store.cfm
KISS Spatula
Any KISS lovers out there are sure to enjoy this one-of-a-kind spatula. This awesome piece is here just in time for summer, complete with a bamboo handle and a stainless steel laser etched talisman's. It can be branded into steaks and burgers.
Kiss4Sale.com
Tel.: 619-546-0621
www.wholesalecentral.com/kiss4s0001/store.cfm
STORE DISPLAYS
Nested Pine Crates
Do you have all the perfect summer products, but need some help with sprucing up that display? These nested pine crates add a cute, beachy feel to your summer display. Products can be placed on top or inside of each crate. Get creative! Three crates come with each set.
All Store Displays
Tel.: 866-242-7585
www.allstoredisplays.com
SUNGLASSES & EYEWEAR
Cat Eye Flat Lens Sunglasses
This summer is all about the cat eye, and what better way to incorporate some feline fun into an everyday look than with these elegant women's sunglasses? Oversized and on-trend these are the ultimate sunny day accessories. And thanks to the lenses' built-in UV400 technology, eyes will be well protected, even on the brightest of days.
Olympic Eyewear
Tel.: 888-303-9393
www.olympiceyewear.com
FOOTWEAR
Bowknot Design Flat Sandals
These women's sandals come complete with a cute black bow on top – the perfect addition to any summer outfit. Available in sizes 4.5 – 9 as well as animal print.
FashionTIY, Inc.
Tel.: 302-595-7992
www.fashiontiy.com
PPE SUPPLIES
Fashion Protective Face Masks
Available in a wide variety of colors and prints, these face masks can help your customers feel safe yet fashionable. Face masks are a necessary summer accessory, but nobody says you have to wear plain white ones. Offer your customers a variety of styles with these stylish face masks.
Wholesale Fashion Square
Tel.: 323-583-2875
www.wholesalefashionsquare.com
APPAREL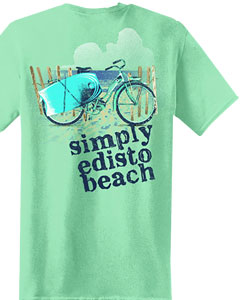 Simply Beach Bike Short Sleeve Shirt
This line is made to be customized with your name drop location, making it a perfect souvenir for tourist shops. Complete with a view of the beach and a bike with a surfboard, your town or state can be added underneath the imagery.
Peace Frogs
Tel.: 804-695-1314
www.wholesalecentral.com/peacefrogs/store.cfm
CHILDRENSWEAR
Kids Rain Boots
From Mickey Mouse to Little Mermaid, Western Chief is equipped with fun boots that kids will never want to take off. All styles are carefully made with moisture-absorbing cotton lining to keep little feet dry and two handles that make it easy for kids to pull on and off. In addition, they proudly support the Wear a Big Smile Foundation by providing boots year-round to families in need.
Western Chief
Tel.: 800-925-7463
www.westernchief.com