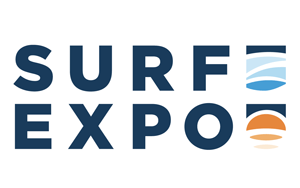 In May, Surf Expo launched a new branding effort and has expanded the watersports and beach lifestyle events planned for the upcoming September show. Surf Expo SVP and Show Director Roy Turner explained, "Our goal was to create a visual identity for the show that reflects and describes who we are today, and the markets we serve. The new branding brings to life Surf Expo's two pillars; Watersports and Coastal Life. Watersports includes the product categories Surf, Wake, Bluewater, Paddle, Wind and Skate, while Coastal Life features Swim, Boutique, Resort, Coastal Gift, Souvenir and Footwear."
Since the debut of Surf Expo as a "surfboard show" more than 43 years ago in Cocoa Beach, Florida, the markets it serves have continued to expand. "We are seeing the beach lifestyle markets, with our deep roots in surfing, expand from saltwater coastlines to all shorelines including oceans, lakes, rivers and more recently, man-made water & wave parks. Our new branding better reflects how we serve our individual markets and how those markets offer crossover opportunities as we continue to be the Premier Watersports and Beach Lifestyle B2B Marketplace," Turner added.
This year's Surf Expo will be held at the West Concourse at the Orange County Convention Center in Orlando, Florida, which has been updated and renovated since the show was last held there in 2015. This year's show will also feature the debut of Waterfest- an outdoor festival experience and kickoff event for the show. The event will feature music, food and 40 of the newest and best products and brands. Waterfest will be an opportunity for retailers and media to experience the brands and interact with the teams in a casual, outdoor environment.
"We're curating the newest and most unique brands from across the Watersports and Coastal Life segments. Waterfest will include hard goods, apparel, accessories (sunglasses, towels, umbrellas, chairs, outdoor toys), consumables and bikes in addition to hard goods like SUPs, canoes and kayaks that can be tried out on the water," said Surf Expo Category Manager Ken Andres. "It's a fun new buying opportunity for our retailers, and our exhibitors are excited for the additional chance to connect."
In addition to Waterfest, the show will host the 16th annual Wakeboarding Magazine Wake Awards on Thursday, September 5th. More information about Surf Expo, Surf Expo Waterfest and the Wake Awards can be found at surfexpo.com.
Surf Expo
September 5 – 7, 2019
Waterfest September 4, 2019
West Concourse Convention Center
Orlando, Florida
www.surfexpo.com