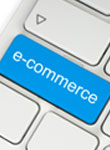 All online business owners use some type of ecommerce "provider," whether as simple as a PayPal Buy Now button or as complex as an integrated Point of Sale/ ecommerce software combination. This month, let's take a look at two leading edge features and why these are important to online business owners. If your current ecommerce provider isn't offering features similar to the ones below, it could be time to evaluate other ecommerce options for your business.
Local ecommerce
While online business owners can sell to anyone with an Internet connection anywhere in the world, it is impossible to ignore the local marketplace. Over the last five years, many different ideas have come to market around local ecommerce. Groupon and LivingSocial are great examples of companies that capitalized early on the local marketplace. Most recently, think Uber, Lyft and Amazon Local. Who can forget the Amazon drone delivery story a few months ago? So what, right?
The "so what" for small to medium business owners operating online is this: local ecommerce is not going away. If goods or services you sell online right now are (or could be) consumed locally, you better figure out a way to capitalize on this growing and evolving marketplace. Take a stroll down your local Main Street, Anytown, USA and peek into the stores – bet you see some type of Buy Local initiative. Buy Local applies to online businesses too, Dig into your ecommerce provider's features and find the tools to reach these local buyers.
Mobile friendly
The value of a mobile optimized or mobile friendly online store is something that cannot be over emphasized. Making your online store accessible via any type of mobile device is not really considered a "feature" these days. It is now a requirement. Your ecommerce provider must provide not only a mobile friendly version of your site, but also a fully responsive template design. Capturing and converting visitors to your online store that arrive via smart phones and tablets, can only be done by delivering rich content and a simple buying experience. A mobile site that looks nothing like your traditional site certainly will not help with customer conversions. Again, talk to your ecommerce provider and determine if your site is responsive. If it's not, figure out how to make that happen. You're missing out on potential revenue otherwise.