by Jon VanZile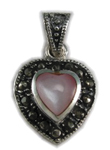 Jack Teja, manager of Teeda, knows how retailers can sell more jewelry. First, he says, you have to carry the right products. Currently, consumers are excited by rhodium-plated cubic zirconium jewelry, including stud earrings and seasonal jewelry, as well as vintage marcasite styles. Marcasite is a special mineral that's added to silver and makes it look antique and slightly tarnished. Rather than a drawback, the tarnishing is intentional and meant to give the pieces an aged look.
Teeda, which has been in the jewelry business for more than 30 years as a leading wholesaler, works hard to offer a product line of the hottest wholesale silver jewelry on the market. The company offers everything from charms to earrings to rings and necklaces. Teeda's products are distributed in all 50 states and over 40 countries.
The next step to selling more jewelry is to pay careful attention to display and merchandising. You should carry the widest selection possible, Teja says, to create a "multiplier effect" with the display. Fortunately, this is relatively easy because jewelry does not take up much square footage and returns a high profit per square foot, relative to many other products. An effective jewelry display maximizes the beauty and design of the pieces. "Presentation is key," he says. "Lighting is extremely important. The pieces are highly reflective, so in order to show them the best, you should have really good lighting."
Finally, all the pieces on offer need to look their best. "Good retailers are constantly polishing their stock," Teja says. The good news is there are very few retailers who cannot benefit from a well-managed jewelry program. According to Teja, Teeda sells to "every kind" of retailer, including small shops that are just starting out, online retailers, mall kiosks, and even distributors who sell into large retail chains. "We are equipped to handle any size retailer," Teja says. "Our value-added proposition is that everything we offer is in stock and ships fast. We offer product at a cost point that is profitable for our retailers."
Partnering with Teeda
Teeda's products are available through the website or by phone. Buyers do not have to be pre-qualified. There is a minimum order of just $100. Most of Teeda's products can be marked up at least 100 percent at the retail level, which encourages volume sales. According to Teja, many high-end jewelers mark up silver jewelry 500 percent or 1,000 percent. By lowering their mark-up, retailers can sell more pieces and have a healthy volume business. For volume pricing, call the company.