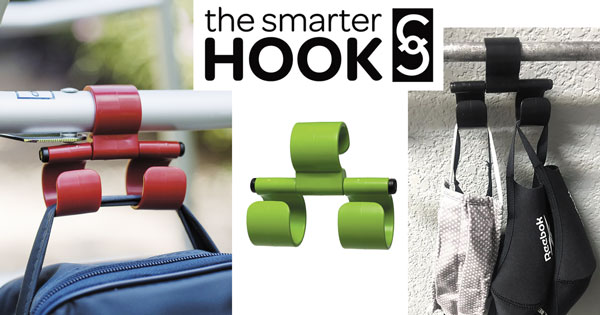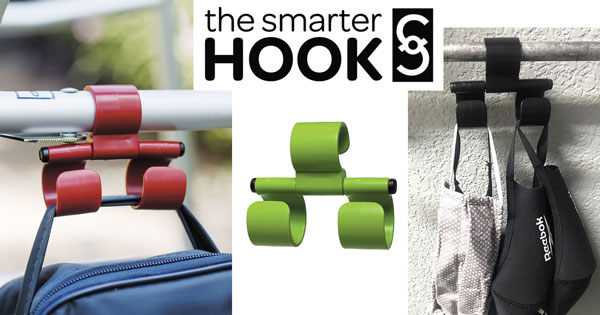 Masks have become such a huge part of our lives now, that they are starting to get just as used and abused as our wallets, keys, and cell phones. They all get dropped on the floor, lost, probably gone for an unexpected tumble in the washing machine and dryer, and there is never really a good place for them around the home. With the help of the Smarter Hook, all of these problems can be solved.
Lending You a Helping Hand
The Smarter Hook is an innovative product that provides an extra hand whenever and wherever you need it. Designed for hanging grocery bags or diaper bags on shopping carts, attaching your purse to your luggage, organizing cords, or hanging up gear while camping, this smart hook can hold just about anything you can think of. Yvette Leslie, the inventor of the Smarter Hook, says she created this innovative product when she needed a way to carry her purse around the grocery store.
Now, Smarter Hook can also keep masks organized and clean while in the home or on the go. It can be placed in the laundry room to hang masks to dry after they have been washed, and it can also be placed by the door so the whole family will not forget their mask before they leave the home.
The Demand for Made in USA Merchandise
Just like most other businesses, COVID-19 has also affected The Smarter Hook in different ways. Normally, Yvette goes through and chooses different trade shows to attend each year. Since the pandemic caused most trade shows to be cancelled or rescheduled, Yvette has been going door to door to brick-and-mortar businesses to sell her product, and this tactic has been successful.
"The good news is that retailers are still purchasing, and in some cases they are desperate for products because their stores are empty since most of what they purchase is made in China and they are having a hard time getting their merchandise in on time," Yvette said. "My hooks are made in the U.S., which has made it easier to get products from my manufacturer and to my customers."
To make matters even better, The Smarter Hook has been deemed an essential business during COVID, so they are open and ready to take orders. These hooks are a great essential product to offer in your store, since they can be placed almost anywhere to hold just about anything. Plus, they make for a great impulse buy near the registers. They are available in six colors including black, blue, green, purple, red, and white, as well as a black and white bling line. Let the Smarter Hook be there for you and your customers and place your order today!
The Smarter Hook
5000 Eldorado Pkwy Ste 150
Frisco, TX 75033
Tel.: 214-799-9879
www.thesmarterhook.com