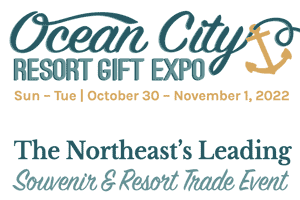 Are you looking for the latest styles in coastal resort gift merchandise? The Ocean City Resort Gift Expo is the northeast's leading souvenir and resort trade event, with buyers traveling from Maine to Virginia Beach. Retailers can shop from best-selling brands and new designs in everything from destination, resort and tourist products, and more.
Taking place October 30 through November 1 at the Roland E. Powell Convention Center in Ocean City, Maryland, this is the trade event for buyers to browse new and beloved brands in all price points. On top of all the great merchandise to see, attendees can also take advantage of unbeatable travel savings such as free parking, discounted hotel rates, and on-site buyer amenities.
Gifts & Souvenirs Galore
Retailers can find everything they need to stock up for the busy season all under one roof, including:
Destination
Resort & Tourist Merchandise
Souvenirs
Beach Items
T-Shirts
General Giftware
Logo Products
Shell Items
Coast & Nautical Gifts
Decorative Accessories
Fashion Accessories
Toys & Games
Aromatherapy
Greeting Cards & Paper Goods
Tabletop
Gourmet
Garden Gifts
If you are interested in viewing specific items, you can flip through the pages of the 2022 Digital Ocean City Resort Gift Expo product preview guide. Here, retailers can find a sampling of the products that will be featured on the show floor at the expo. To learn more about a product, simply click on the vendor's website right in the guide.
8 Tips for a Successful Trade Show Experience
Whether you are new to the Ocean City Resort Gift Expo or have attended before, it always helps to plan ahead and prepare for your time spent at the event. Here are some tips to help guests get the most value out of their experience:
Avoid the lines
Take advantage of online registration and sign up for the show ahead of time. Have your printed out confirmation when you arrive at the expo to gain a quick and easy entrance.
Book your hotel
Connections is the official housing partner for the Ocean City Resort Gift Expo. Take advantage of off-season hotel rates and receive tremendous discounts on accommodations when you book through their hotel link. Rooms are available on a first come, first-served basis, so be sure to book early.
Do your homework
Research the exhibitors before the show so you are familiar with their products and have questions prepared. Be sure to familiarize yourself with the floorplan so you know where they are located.
Make a plan
Once you determine which exhibitor you would like to meet with, reach out to set up appointments with them prior to the show.
Review the FAQ's
Find important information including show hours, concession schedule, registration hours, and more through their FAQ page.
Bring the right items
Remember to bring comfortable shoes, plenty of business cards, and a pad and pen to take notes.
Network!
Make time to connect with other buyers to see what is trending in their stores and to make valuable business relationships.
Stay connected
Follow the Ocean City Resort Gift Expo's social media pages to keep up with important show news, exhibitor updates, and to join the conversation.
The Ocean City Resort Gift Expo is the place for coastal and resort retailers to explore products that promise to differentiate your store from the rest.
October 30 – November 1, 2022
Roland E. Powell Convention Center
4001 Coastal Highway, Ocean City, MD 21842