"Be very straight and honest with everyone. Honesty is the most important policy."
While there are no plans to open another brick-and-mortar location in the future, the Baribault family is constantly growing the business by expanding their offerings.
"We always stay true to the fact that even if a customer does not remember what we say, they always remember how we make them feel. That is the one thing that we will always ensure is the real deal."
Running a business can be challenging for some, especially with all of the struggles that the COVID-19 pandemic brought along for the ride — but not for Baribault Jewelers. By continuing to go with the flow and keep their family at the forefront, it has helped this family-run business be successful for 74 years and thrive during the pandemic.
Adapting to State Guidelines & Customer Needs
"We offered curbside pickup, online sales, and both mailbox and private deliveries. Customers still wanted to get engaged, so we still had to do what we had to do with masks, shields, and gloves," Lewis Baribault, owner of the jewelry store, said. "I would come in and get everything all set with the diamonds and customers would walk in, purchase it, and an hour later they would have it, so we would deliver them right away. It is just our family here — we were adapting and had to follow state guidelines, but we came out ahead."
Baribault Jewelers is a local jewelry store in Glastonbury, Connecticut. Lewis' uncle, Philip Baribault Sr., was the original owner, and opened his location, the first jewelry store to grace Glastonbury, in 1948. Lewis took over the business in 1988 and recently celebrated his 50th year in the jewelry business on April 23, 2022 with a special surprise party at Rooftop 120, a restaurant located right next to their brick-and-mortar store. Complete with a band, a champagne diva, and a magician, the family partied alongside friends, clients, and customers. All were welcome to the celebratory bash.
Secrets to Success
"Be very straight and honest with everyone. Honesty is the most important policy — when you go to bed at night, you can sleep because you do not cheat anybody, and that is important to me," Lewis said. "We all work very hard, and when the chips are down, we all stick together. We also do our best to say yes about 99.99 percent of the time to every customer. If there is a way to make it happen, we will make it happen."
Another secret to success is putting the customer above all else, even if it means ignoring the competition in your surrounding area. While there are many other jewelry stores in Glastonbury, the Baribault family always makes sure to just take care of their customers and keep them the main focus. "When a customer comes here, even though they have been to other jewelry stores in their life, most of the time they stay with us because they have such a wonderful experience here. We have a strong referral business — it is nice to see that when we are loyal to our customers, they are loyal to us," Lewis Baribault III, Lewis's son, said.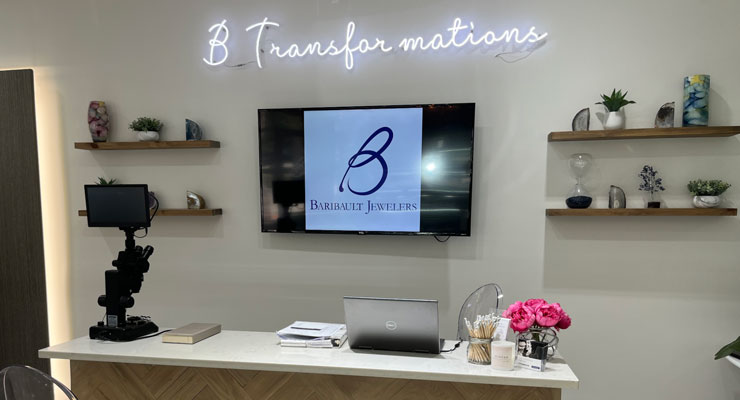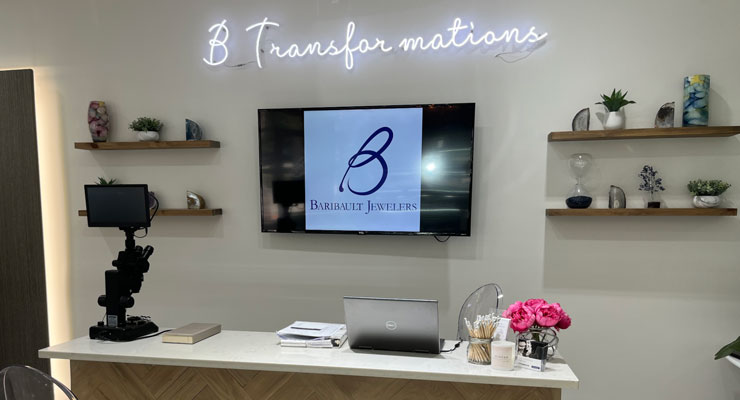 Continuously Expanding
While there are no plans to open another brick-and-mortar location in the future, the Baribault family is constantly growing the business by expanding their offerings. Everything customers may need to take care of their jewelry is right there in the store: they have three goldsmiths and setters, watches, and they even specialize in jewelry transformations. Customers can bring in old pieces, and Baribault Jewelers will recreate it into a modern design, utilizing all of the original gems and metals. By continuing to broaden their offerings, it keeps shoppers coming back for more.
Making Personal Connections with Customers
Lewis's two daughters, Raeann Schwartz and Christina Ortiz, even expanded the jewelry store's product offerings with a whole new line called The Power to B. Founded in 2019, this fine jewelry collection aims to bring women together in joyful empowerment. The stunning 14k gold- or gold-plated phrase bracelets, necklaces, and rings remind women to B Strong, B Fierce, B Badass, B Limitless, B Fearless, or B You. The Power to B manifested into a collection after the two sisters went through about six years all together of fertility struggles. During that time, they really needed visual reminders to stay hopeful, happy, positive, and focused.
"We realized after helping ourselves during our fertility struggle and talking to other women about it, we found out that jewelry was their happiness. Then we thought that we can do this for a broader audience since we see so many people who are going through their own struggles," Schwartz said. Oriz added, "We were able to be in the store and talk with customers about their own stories, challenges, and triumphs, and now we can sell a bracelet and receive a message from the customer talking about how much it helped them. It helped to build our confidence over time and see that it actually works."
Bringing the Community Back Together with Local Events
Baribault Jewelers is hosting different summer events to refresh after the height of the pandemic and get shoppers back in the store. In June, they held a Free Gemstone Event, where the first 100 customers who made an appointment with the store on that day were able to select a free gemstone valued at $150. Once they got their gem, the jewelry store was able to set the stones on the premises while the customer waited, so each shopper was able to walk out with a stunning pendant or ring at a fraction of the price. Baribault Jewelers is also planning a large bridal event in November.
Staying True to Your Business
"We always stay true to the fact that even if a customer does not remember what we say, they always remember how we make them feel. That is the one thing that we will always ensure is the real deal," Schwartz said. "We are super grateful for every customer who walks through the door. We are a family too outside of the store, but even inside the store, none of that changes. No matter where you get us, it will always be the same."