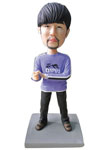 California based Wancube is reinventing the souvenir portrait with their novel 3D printing technology that produces lifelike, custom figurines. The company uses either a 3D scan or a standard 2D photograph to produce an accurate 3D figurine of any subject, including single subjects, couples, families and pets. The figurines are great for all special occasions, including graduations, weddings, birthdays, anniversaries, or whenever a lifelong memory is created.
First 3D photo company in USA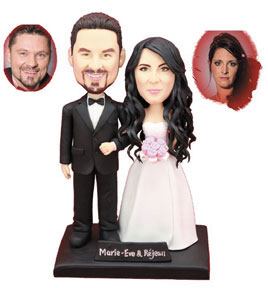 "It's the next generation of photography," says company founder and president, Jianjun Wen. "We use a 3D printer to print out a model of the person that is very accurate, even down to their clothes. Then we ask our artist to do a mold cast from the model, and put the color on the figurine. The customer ends up with a figurine with their face."
Wancube has a retail location in Los Gatos, California. Customers are scanned with a 3D scanner, which is used to create the figurine. "The problem we realized is that a lot of people couldn't make the trip to the store," Wen says. "So we can also use normal photos, and our artist will create a figurine from that. The similarity will be lower than using a 3D scan, but we are currently working on a very high-end solution."
According to Wen, the entire process, from photo or scan to completed figurine, takes two to three weeks. Although 3D scanners and 3D printers have been available for a few years, Wen says his company is the first, and currently the only company to use these technologies to create lifelike, personalized figurines. "We are the only business in the United States doing this."
Helping customers build memories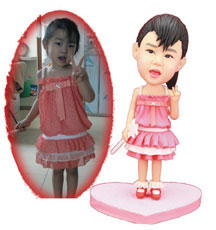 Retailers interested in selling Wancube 3D figurines are provided with sample figurines for display, and can offer the service based on conventional photography, instead of providing a 3D scan. "Retailers can ask customers to send pictures and we'll make the figurine here, and send it back to the store," Wen explains. In all, it should take about three to four weeks to receive a completed figurine, including shipping time.
Wholesale prices begin at $80, depending on the figure, but Wen says bulk discounts are available for retailers with high volume. Suggested retail begins at $99.99 for a 4.7″ figurine of a single person. An 8.27″ wedding cake topper retails for $279.99.
Wancube
233B N. Santa Cruz Ave.
Los Gatos, CA 95030
Tel.: 408-888-7023
Website: www.wancube.com