For both wholesalers and retailers, the ability to offer a wide range of merchandise can be the means to successful sales, especially in today's economy. Consumers are in the market for value, and smart wholesale companies provide independent retailers with product and pricing options that promote high profit margins, stimulate consumer interest, and enable retailers to offer goods at bargain prices.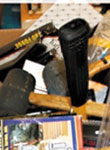 Continental Wholesale Company in Iowa works with 25 large retail companies to acquire merchandise and to offer the lowest possible wholesale prices to independent retailers, flea marketers, wholesalers, thrift stores, nonprofit organizations, auction houses and auctioneers. The company buys liquidations, excess inventory, customer returns and surplus merchandise by the semi-load. It sells a wide range of general merchandise, including appliances, furniture, electronics, bedding, domestics, toys and sporting goods. Owner Joel Orr says, "We literally sell products for pennies on the dollar, at a small percentage of retail value. A lot of stores we work with are bargain stores, so they sell merchandise for half the retail price and still make a hefty profit."
Among the product categories Continental Wholesale carries, sporting goods are very popular today. Orr says, "We deal with several large sporting goods companies, so we can meet our customers' needs. We've got mixed loads, too. If a load is from a department store, it can include everything that's in their store, from sporting goods to pharmaceutical items." Another trend that began surfacing in the last few years is a result of the nation's economic recession. "When the economy got bad and people were losing their jobs, they began calling and telling us they always wanted to have their own store," Orr reveals. "People began creating jobs for themselves as independent retailers, and we gained a lot of customers."
Having run an auction house before launching Continental Wholesale 25 years ago, Orr understands his customers' needs and attributes the company's longevity in part to its dedicated customer service. "Our sales representatives work very closely with store owners and get to know their businesses, so we can better service them. When loads come through our facility that we think they'd like, we call them up and say, 'We have a load that would be good for you.' Customer service is our forte." The company is also big on community service. Continental Wholesale offers a community service program it calls the Truck Load Sales Concept (TLC). "We work with nonprofit organizations all over the U.S.," Orr explains. "We show people how to sort through and organize merchandise, price it and sell it to make money for their organizations. At Continental Wholesale, we strive to develop long lasting business relationships that benefit us all."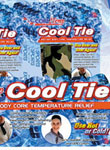 Adam Dawe, president and CEO of American Distribution Company LLC, founded the company in 2004, aiming to provide the newest, most unique products and designs in the marketplace. In 2005, Craig Raines, VP and business partner, joined Dawe in his mission to serve wholesale distributors and retail stores throughout the U.S., Canada and Mexico. "We carry a wide range of products, including toys, knives, biker gear, TV products, head gear, and hunting and fishing equipment," explains Raines, "and we fully cover the four major seasons: Christmas, Valentine's, Easter and Halloween. We manufacture many of our products ourselves, and everything we have is unique," Raines continues. "We're based in Mobile, Alabama, and we have a representative in our warehouse in China sourcing products every five to six weeks."
American Distribution Company develops and test markets more than 40 items a month. "Some items we launch without testing them, if we see a trend or we have a gut feeling that a product is going to do well," Raines points out. "The hunting and fishing category is huge for us." In this category, Raines says he is confident the new Survival and Emergency Preparedness Bracelet will be a big seller. The bracelet unravels to 16 feet of 550 pound test military parachute cord. "We test marketed the bracelet with our customers and we got an unbelievable amount of pre-bookings. A lot of outdoorsmen use this, but it is also a trendy item among high school and college students." The suggested retail price is up to $19.99. Another popular item is Hot Socks Foot Therapy, Raines says. Hot socks are made of a polar fleece material that soothes tired feet when heated in the microwave. "Nearly all of our customers pre-book this item because it's an excellent holiday gift," he notes. Suggested retail ranges from $16.99 to $19.99, "Retailers will pay around $10 from the distributor," Raines says. "The religious and spiritual and jewelry categories have grown tremendously for us," Raines continues. "The Shamballa bracelet, one of those Hollywood items, is extremely popular now. A lot of stars are having diamonds and gems put into their Shamballa bracelets, and I think this item is going to be a hot trend for the next year." The suggested retail price ranges from $6.99 to $7.99.
American Distribution Company has a licensing agreement with Apple Inc. to use the iPod, iPad, and iPhone icons on its products and marketing materials. "The cell phone accessory market has been very big for us, mainly because we have this agreement with Apple," Raines says. The iPad Screen Guarder, which retails for $14.99, is very hot right now. But even great products can fail without proper packaging, Raines stresses. American Distribution packages all its products, even those it does not manufacture. "You can put a great item in a horrible package and it won't sell. We have a full time staff and our own warehouse facility in China, where we do all of our own packaging and printing," Raines explains. "As a result, very seldom have people tried to copy our items. We also can custom package items for people."
The company sells its products at three price points. Master distributor pricing is the lowest; pricing for six or more displays is a little more than that of master distributor; and pricing for retailers that purchase just one display is a little higher still. Whatever the product and quantities desired, American Distribution works with its customers to offer the best possible pricing, Raines assures. "The company was built on being customer driven, and we take care of our customers."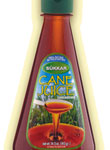 Bargain Max, Inc., a wholesaler, liquidator, distributor and retailer founded in 1985 by Douglas Hipps, specializes in buying closeout merchandise and offering it to independent retailers at the lowest prices. "We've always had a hybrid business, with both retail outlet stores and a wholesale operation," explains Hipps, CEO. "The good thing about having a hybrid operation is that your retail will carry you when your wholesale is down, and vice versa. Right now we're expanding our business, mainly through wholesale to mom and pop shops." The company offers a wide range of general merchandise, including dollar store items, food goods, health and beauty products, office supplies, pet supplies, toys and more. Promotions are deal specific and Bargain Max sells by the case, trailer load and pallet load. There is no minimum order, but the company strives to reach a $300 price point.
Bargain Max has agreements with national chains and also works with bankruptcy courts to acquire inventory. "We'll break off some goods for our retail outlet and others go to wholesale. We wholesale to all different groups, everything from Native American reservations to Big Lots," Hipps points out. "The export trend is nice for all goods right now, and we are exporting more than we have in the past. There seems to be money from overseas coming into the U.S., which is good for the U.S. designer and regular clothing trending up, and there is a huge demand overseas for U.S. made groceries."
Hipps says customer service is the heart of Bargain Max. "We've very conscientious that our clients succeed," Hipps stresses. "We want a marriage. We don't want someone to buy one load of merchandise and that's all. We call the customer and make sure it's been a successful purchase for them, and that they have a return on their investment, and we offer subsequent deals. I've always believed firmly in a win-win situation."  Perhaps that's why the company also operates a food bank in Charlotte. "We have a lot of retirees and families with several children shopping with us. We just want the food bank to provide a service and break even. Our primary focus is to be part of the solution in the community."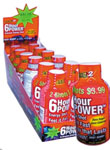 Price Master Corporation, located in Queens, NY, is a national distributor to regional wholesalers, rack jobbers, cash 'n carry outlets, convenience stores, dollar stores, and many other businesses. The company carries more than 3,000 general merchandise products and leading brands such as Duracell, Tylenol, Colgate, Bic, Chapstick and Kodak, in the categories of consumer electronics, batteries, photographic films, health and beauty aids, vitamins and energy, cigarettes and tobacco, and more. "Whatever is good for a convenience store and dollar store, we include in our line," explains Nahid Najimi, sales and marketing manager. "Electronic cigarette lighters are a hot item right now, and retailers can expect 100 percent margins on our merchandise." Price Master, which began operations in 1988, says 95 percent of its products are in stock, and the company ships most orders within one business day. The firm offers free freight delivery within a 50 mile radius of New York City for orders over $1,000, as well as other free freight deals, and provides discounts on larger quantity orders.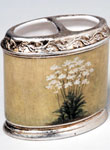 Regent Products Corp. in River Grove, IL, founded by Mike DePaul and William Bailes in 1985, is a supplier of direct imports, domestic general merchandise, dollar store items and name brand closeouts. The company carries 4,000 items in 20 categories, with closeouts comprising about 25 percent of the product mix, with the remainder being direct imports specifically made for the company. Independent retailers' margins are generally 40 percent if they shop for a product mix of closeout and regular items, according to Ken Soens, sales manager.
Three quarters of the company's direct imports are packaged under Regent Products' Good Old Values brand, says Soens. All of the seasonal items, toys, party supplies, tools, HBA and kitchen gadgets are branded GOV, but pet and plastics products are not. "Regent Products offers a wide range of 'extreme value' (opening price point) merchandise," Soens explains. "We can supply and fill the needs of anyone with a dollar store, and we also are heavily involved with grocery trade, drug trade and mass merchants." Hardware chains, like many of its customers, use Regent Products for promotional end caps or circular ads. "They might use our products for a dollar days promotion, and put our products such as BBQ tongs and grill cleaners on the front cover to drive traffic into the store. Our products can be viewed as the opening price point, the value item, and there might be something more high-end like a $20 grill scrubber in the store, so the customer has a choice."
Regent Products works with major factories that produce products for large retailers around the country, and the quality is very good, Soens stresses. Even so, packaging products to sell is critical. "It's really important to attract the customer's eye. Many competitors don't do that. They just take whatever packaging the manufacturer gives them, and it's boring and uninviting. We're trying to bring a little sizzle to the product and packaging," he says. The company's most popular category is pet. "Our pet business has gone through the roof over the last five years," Soens points out. "I've also seen a huge increase in sales of plastics such as serving trays, food storage and catering type products." Another popular trend is multiple price points. "'Two for $3' and 'nothing over $5' are growing massively, and we're responding to that by having more product at those price points to support that segment," Soens states. "We keep our eye on the retail market, so we can offer the best value."
Regent Products strives to be the independent retailer's one stop shop by offering great packaging, exceptional customer service and good freight rates. "We're located in the Midwest, so freight rates are very competitive," Soens points out. "We have a full time customer service staff, and our customer service is tremendous. We work with other vendors to get product in and consolidate orders for people when we can. Chicago is a big tradeshow hub and we're conveniently located near O'Hare airport, so if a customer is coming in for a show, we pick them up at the airport and take them to our showroom to see all of our items."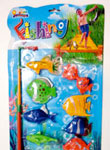 Y Weng Wholesale, founded by Raymond Weng and Karen Zhang, is a direct import company that specializes in wholesale of general merchandise such as housewares, tools, kitchenware, toys, gifts, jewelry and socks. Customers include retail vendors who sell at flea markets, festivals and auctions, and the minimum order is $100. "We try to carry what everyone needs and to keep up with the latest trends, to be most helpful to our customers. When the Rubber Band Bracelets were big, we got those for everyone," says Shannon Miller, office manager. "Summer items are popular right now, especially light up toys."
Light Up Shoe Laces, new this year, wholesale for $2.25 each when purchased by the dozen, and $1.75 each when purchased in batches of 10 dozen or more. The laces are available in assorted colors and batteries are included. The lights have two flashing speeds, slow and fast. "Light up toys are great for festivals," Miller points out. "Wind Spinners are also a popular trend." The individually packaged 14 inch Double Wind Spinner American Flower wholesales for $1.75 each when purchased by the dozen, $1.50 each for five dozen pieces, and $1.15 for 10 dozen or more. Profit margins on Y Weng's merchandise vary, Miller says. One retailer might sell a hat for $2, and another may sell the same hat in a specialty store for $10.
In today's marketplace, independent retailers demand not only the best pricing but also great customer service. Wholesalers that partner with their customers and provide added value by following consumer trends, offering a wide product selection, custom packaging and personalized service, stand to thrive and grow with retailers.
For more information:
Continental Wholesale LLC
15 5th Avenue S.E.
Hampton, IA 50441
Toll Free: 800-869-7203
Tel.: 641-456-3165
Fax: 641-456-2406
Email: continentalwholesale@yahoo.com
Website: www.continentalwholesale.net
American Distribution Company LLC
3140 Lees Lane
Mobile, AL 36693
Tel.: 251-661-0378
Email:mcdonald.adc@gmail.com
Website: www.americandistributioncompany.net
Bargain Max, Inc.
1000 E. Sugar Creek Rd.
Charlotte, NC 28205
Toll Free: 800-497-5986
Tel.: 704-277-8007
Fax: 704-371-3034
Email: bargainmax2000@hotmail.com
Website: www.closeoutcentral.com/Seller_Profile.cfm?sid=117
Price Master Corp.
57-07 31 Avenue
Woodside, NY 11377
Tel.: 718-626-7779
Fax: 718-626-7788
Email: salesdept@pricemaster.com
Website: www.pricemaster.com
Regent Products Corp.
8999 Palmer St.
River Grove, IL 60171-1926
Tel.: 708-583-1000
Fax: 708-583-1400
Email: sales@regentproducts.com
Website: www.regentproducts.com
Y Weng Wholesale
4770 Navarre Road SW Unit B
Canton, OH 44706
Toll Free: 866-251-6878
Tel.: 330-479-9950
Fax: 330-479-9951
Email: ywengwholesale1@yahoo.com
Website: www.wholesalecentral.com/ywengwholesale