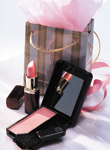 The NPD Group has taken a look back at 2010, identifying some key areas where retail growth exploded after two years' worth of dormancy. The company's research provides some promising growth opportunities for 2011.
Apparel: After having declined just over five percent in 2009, the U.S. apparel market returned to positive territory with an almost three percent increase in 2010. Women once again lead the way in this sector of the fashion market. The men's market went up just over three percent in 2010, after a 5.6 percent decline in 2009. The children's apparel market went down in dollar sales, but up almost one percent in unit sales.
Beauty: The total U.S. prestige beauty industry showed an increase of four percent in dollar sales in 2010 vs. 2009, after two consecutive years of decline. All U.S. prestige beauty categories experienced dollar growth. Prestige skincare posted the biggest increase, followed by prestige makeup and fragrance.
Fashion Footwear: After posting a decline of 3.5 percent for annual 2009, the total fashion footwear market posted a 7.2 percent increase for 2010. The strongest performance was seen in the women's market, as sales of women's fashion footwear were up eight percent, after having posted a slight decline in 2009. The categories that contributed most to the growth were performance footwear, up 120 percent, work and occupational safety footwear, up 44.2 percent, and outdoor shoes up 14.4 percent. The footwear type posting the highest growth in the women's market was boots, up 21 percent.
Toys: Led by strong fourth quarter sales, U.S. retail sales of toys generated $21.87 billion in 2010, compared to $21.46 billion in 2009, an increase of two percent. Top performing super categories included plush toys, up 18 percent, building sets up 13 percent, outdoor & sports toys rising nine percent, dolls increasing six percent, and the infant and preschool market going up six percent. "Looking forward to 2011, there is much optimism coming off the strong holiday performance for toys," says Anita Frazier, industry analyst at The NPD Group. "From our 'KIDS' tracker, we know that toys is one of the top categories kids are spending their holiday gift cards on. With an improving economy, several movie releases, and a wide array of innovative products coming to market, 2011 looks to be another solid year for toy sales."
Video Games: Bright spots came from PC games' new physical retail software, which was up three percent in 2010, as well as increases in consumer spending on used games sales, full game digital downloads and downloadable content, mobile gaming apps, and social network gaming, which offset declines in console and portable new physical game sales, rentals, and subscriptions.
The preceding was based on findings from The NPD Group.