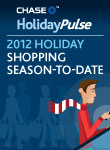 The 2012 holiday season marked another strong period for eCommerce retail as consumers continued to shop online in ever-increasing numbers.  Chase Holiday Pulse reveals a year-to-date, year-over-year sales growth of 15.2 percent, consistent with most industry predictions. For the season overall, October 29 to December 25, transaction growth was up 24.3 percent year-over-year, while average ticket number continued its decline by 7.3 percent from the same period last year. Chase Holiday Pulse also revealed the following 2012 trends:
For the period Friday, Nov. 23 (Black Friday) through Friday, Nov. 30, Pulse showed year-over-year sales increased by 22.5 percent and transactions were up by 32.7 percent, potentially powered by online retailers providing additional incentives on the days following Cyber Monday.
Green Monday kicks off the busiest week of the season:
In terms of total transaction volume, Pulse shows that the period from Dec 10 (Green Monday) to Sunday, Dec 16 was the busiest seven days of the holiday shopping season, with year-over-year transactions up 16.6 percent.
Consumers increase use of mobile devices:
In 2012, the showrooming phenomenon went mainstream as consumers used their mobile devices to research items they saw in-store, but then purchased online.
Merchants extend offers beyond traditional sales days:
Heavy promotional activity from merchants during the holiday season was especially evident this year, with merchants attracting more online shoppers with email, online coupons and discounts.  To illustrate this, Pulse data for the weekend between Black Friday and Cyber Monday reflects an average sales growth of 38.3 percent year-over-year.
Year-to-date, year-over-year, October 29 to December 25 sales percent breaks down as follows:
Apparel/Shoes / 1.3 percent
Consumer Electronics / 16.6 percent
Gifts / 3.6 percent
Home / 16.3 percent
Mass Market and Variety / 26.7 percent
Toys / 8.1 percent
These trends plus the combination of the extended shopping season and consumer ability to shop online up until the Saturday before Christmas have ensured most online merchants a strong and successful 2012 season.