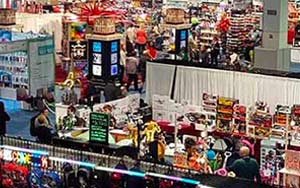 This time two years ago, trade shows were almost non existent. While most shows were canceled all together, some organizers bravely took to creating online events to keep exhibitors and retailers communicating and placing orders. After all, just because we are in a pandemic does not mean we do not need products.
Now, the industry is on a fast track back to normal and 2022 has a wide variety of in-person trade shows for hungry retailers looking for products to fill their empty shelves. With all of the supply chain delays disrupting the retail industry, it is more important now than ever to make sure you have merchandise to sell to shoppers. Cash & Carry trade shows are a great way to get products fast, and there are plenty of those events coming up this year, as well.
New COVID-19 Variants Stirring the Pot
The Delta variant did not start making waves in the U.S. until July of 2021. Now, the recently discovered Omicron variant is also making its way through different states and is expected to spread further in the coming months. In response to the omicron discovery, the Biden Administration is tightening coronavirus testing requirements and screening for international travelers arriving in the U.S., according to The Trade Show Executive. Travelers will be expected to provide a negative test result from a test taken within 24 hours before they depart. Biden has also extended the mask requirement on all domestic flights and public transportation through March 18.
Sheriff Karamat, CAE, PCMA President & CEO, told The Trade Show Executive that Convening Leaders 2022 is a go in Las Vegas this January, and that all in-person participants will be required to be vaccinated. "While the world awaits further details about the omicron variant, I encourage the business events industry to remain vigilant as we continue to safely deliver engaging experiences that drive commerce, foster community, and equip us with the latest knowledge to advance economies and social good. Volatility around this virus is expected and will continue, thus we cannot lose sight of the importance of being safe — wearing a mask, being vaccinated — and listening to the facts delivered by medical experts so we can continue to run our businesses effectively," he said
Trade Shows Will Persevere
No matter what comes our way, both exhibitors and retailers have shown time and time again that they want to return to in-person trade events and want to do business. Atlanta Apparel, which ran October 12 – 16, 2021 at AmericasMart Atlanta, reported a record-breaking market with pre-pandemic buyer attendance and its largest-ever number of resources. With more than 630 permanent showrooms and temporary exhibits, it was marked by a successful first-time expansion of temporary exhibits to five floors as well as growth across all sectors of the market.
Atlanta Apparel is not the only trade show seeing an increase in attendance. The International Gift Exposition in the Smokies (IGES) recently announced an increase in exhibiting vendors at its annual gift show, which took place in November 2021 at the Sevierville Convention Center in Tennessee. With more than 400 exhibitors, doubling its size and resources, and a 40 percent increase in net square feet of souvenirs, toys, apparel, and more products, a variety of merchandise was on display for buyers to purchase.
Make the Most Out of Your Trade Show Experience
The bottom line is that retailers need products. As long as all attendees continue to be safe, wear masks, and frequently cleanse their hands, the trade show industry can keep producing successful in-person events. Whether retailers have attended online only shows or maybe just a few in-person events during the last few years due to COVID-19, it is now time to get back into the full swing of things. Here are some refresher tips for buyers so they can make the most out of their experiences in 2022:
Establish a Budget. Seeing all of those new products can get exciting, so it is super important to establish a budget before you attend any trade show.
Look at the List of Exhibitors Beforehand. In order to establish your budget properly, most trade shows will have a list of all or most of the attending exhibitors on their website. This allows buyers to see what they sell beforehand and find out if they are worth paying a visit.
Check Out Pre-Show Promotions. Oftentimes, trade shows will offer exhibitors the option to share a discount code on the exhibitor's website. This is a great way for buyers to get into the show and register at a reduced rate.
Make Appointments with Exhibitors. Most trade shows will allow buyers to schedule appointments with exhibitors so there is enough time to talk about products, purchase orders, and any other questions you may have for the brand. Bypass the lines and wait times and make a proper introduction!
Continue Connecting After the Show. Trade events are great places to make long-lasting business relationships, so always remember to take a business card and keep the exhibitor's information on hand for future orders or questions about new products.
As retailers get ready for events in the year ahead, here is a list of some popular trade shows taking place throughout 2022: www.wholesalecentral.com/trade-shows/trade-show-calendar.html