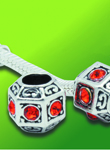 Fernando Huerta, CEO of Sky Gift, is a man of many talents and with many specialty retail offers. After 18 years in business, Huerta  has acquired a knack for creating successful kiosk programs, focusing on two very different product lines: jewelry and toys. Most of Sky Gift's carts are in Las Vegas or California, but Huerta also sells to fairs and inline stores nationwide. When it comes to toys, an interesting and affordable product from China called, smash balls, has become a huge sensation. In the category of jewelry, Murano glass jewelry is a huge hit, along with Brissys Jewelry charm beads, the newest sensation in customized accessorizing.
Fashionable Beads and Fun Toys
While Huerta has extended his jewelry lines in recent years to independent retailers, boutiques and gift shops, he opened his first jewelry cart about three and half years ago in Las Vegas. The Murano jewelry, handcrafted in Venice, Italy, was a hit from the beginning and continues to do well. Sky Gift sells the Murano items to hundreds of locations, but mostly to shopping mall carts and kiosks. In cart based products, jewelry is without a doubt the best non-demo product out there, according to Huerta. Startup costs are low, which might explain why more and more retailers express interest in doing business with Sky Gift.
The same is true for Huerta line of Brissys Jewelry charms. Released a couple years ago ahead of the fashion craze, the Pandora style beads have grown in popularity more recently. With the prices of gold and silver increasing, these affordable glass, enamel and metal-based beads have found a profitable home among kiosks. "We have what everyone wants, including styles featuring stones, hearts, animals and anything else you can imagine," says Huerta. "With more than 1,200 different designs in stock, we are sure to have what retailers want." The choice of a $500 or $1,000 startup package provides cart owners with an assortment of beads, bracelets, necklaces and stoppers. Items such as the metal beads with stones, which are more popular, are provided in a higher quantity. For retailers looking to put together their own package, there is a $500 minimum initial order. Each bead wholesales between $0.85 to $0.95, while bracelets and necklaces are $1.25 and $1.65. Depending on the malls, cart owners can retail the beads at $1.99 to $5 each, or possibly $5 to $9.
And while Huerta's jewelry lines keep him and his kiosk distributors busy, Sky Gift's smash balls have a large following as well. The discovery of the smash toy product came via Sky Gift's connection to the Chinese market. The company has an office in China for the specific purpose of researching new products. All items are first tested in the office, then sent out to "the field" for a second test, in one of Sky Gift's retail locations. In the case of the smash balls, once they were tested on location the reaction was positive and immediate. Retailers and even fair vendors absolutely love smash balls, according to Huerta. "We sell some RC helicopters, and a lot of people are selling those," he says. "But the smash balls, only a couple of companies here have them, and nobody has them in packages."
Sky Gift boasts several websites, highlighting its many product lines; one for the Murano jewelry, Brissys jewelry and one for toys. There are many buyers who will order from the websites, but Heurta reports that in a lot of cases, people are more comfortable buying directly. These buyers will typically go to the website to browse and then call and inquire about purchasing, especially if they are a first time buyer or looking to invest in a startup package.
For more information:
Sky Gift dba Mall Spinners
4280 West Reno Ave., Suite B
Las Vegas, NV 89118
Tel.: 888-977-4648
Email: videofer@gmail.com
Websites: www.brissys.com, www.muranomall.com, www.toysforcarts.com