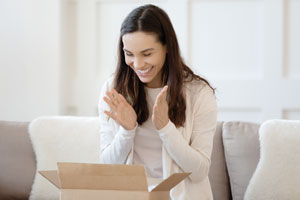 by Kyle Beldoch
The subscription commerce market is projected to reach $478 billion by 2025, with shoppers and merchants alike realizing the variety of benefits a subscription experience provides. As subscriptions continue to become more ubiquitous, merchants must ensure their strategies are effective in serving their customers' needs. Fortunately, by focusing on competitive differentiation, as well as providing customers control and experiences that surprise and delight shoppers, brands can create successful subscription strategies that stand out.
Establish Competitive Differentiation Beyond the Basics
An increasing number of competitors means more pressure on margins. As brands continue to launch subscription experiences, they must find creative ways to add value that goes beyond free shipping and discounts. For example, beauty brands often "drop" products, offering early access to limited-edition items to subscribers. This helps build anticipation and exclusivity, as well as an incentive to subscribe. In addition, how-to videos are creative ways to showcase products. For other verticals, this exclusivity may come through content. Specifically, nutraceutical companies can share recipes using protein powder with subscribers. Likewise, coffee brands can post behind-the-scenes blogs on how their coffee is sourced.
Give Customers Control
Consumer demand for convenience and enhanced personal buying experiences has increased dramatically in the last several years. Now that consumers know the level of convenience they can receive, they have come to expect control over all aspects of their relationship. This begins with easy enrollment, whether a shopper is on the product or checkout page. Next, intuitive subscription management must allow customers to swap out products, or make changes to order frequency as it fits their unique needs.
Brands can and should proactively remind customers when their next order is expected to be delivered. This way their orders are never a surprise. For example, a subscriber might want to swap their current subscription with a different coffee flavor – or skip their order for the month. The more convenient the overall subscription experience is, the more likely they are to enroll and remain loyal, increasing customer lifetime value.
Foster Surprise & Delight Experiences
Another way to encourage retention is by engaging customers with unexpected benefits. In general, brands can offer surprise experiences, such as a gift with purchase, at a time in the lifecycle when customers will be the most engaged. These campaigns also depend on a brand's voice and the unique interest of its main customer base. For beauty, this might be a surprise discount on the anniversary of their enrollment. For pet food brands, this could be a donation made in a customers' name to a local humane society. By keeping subscribers on their toes with unexpected rewards, merchants can foster and nurture these relationships.
Enhance the Subscription Experience to Stand Out
As emerging brands scale, subscriptions can serve as a key foundation for competitive differentiation, customer convenience, and the overall experience. The subscription commerce market will only continue its exponential growth – and so will the competition. Brands that take the steps now to optimize their subscriptions will be able to reap the benefits of customer loyalty that result from exceptional experiences.
Kyle Beldoch is the Strategic Client Director at Ordergroove.