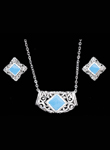 The 3D Belt Company started producing its, "Authentic Cowboy Tough," line of Western products in a 10 by 30 foot building in Schulenburg, Texas in 1988. Twenty-two years later, the company is still in Schulenburg, but now its offices, warehouse and distribution center are housed in a 150,000 square-foot facility, and its top quality line of Western products has been enhanced with new lines, including Silver Strike jewelry, Badger leather products, Sentry leather products, and an exciting new line of personal care fragrance products, aptly called, Angel Ranch.
3D Belt senior VP of sales and marketing, Tony Brock, said that the company was originally founded by three members of the Dees family: Steve Dees, his brother, Jeff, and father, Danny Dees, which is how 3D got its name. Steve later bought out family members and now owns the company. 3D has always placed great emphasis on high quality and excellent design. When the firm started out, the belts were hand crafted in the U.S., but as the industry became more competitive, many manufacturers moved overseas. At the time, there was an owner of a factory in China who spent half his time in Austin, Texas and the other half at his factory. His children, however, were all educated in the United States.
At the time when companies were moving production overseas, there were no factories in China that were capable of making the product that 3D demanded. 3D president, Steve Dees, brought the owner of the factory and Chinese craftsmen to Schulenburg, and taught them the art of hand tooling leather. They went back to China and set up a factory there, specifically to create tooled leather products. 3D continues that relationship to this day, to produce beautiful, high quality leather tooled products. "Although we were originally founded to hand-tool western belts," explained Brock, "we have added a great deal of products to our line, including wallets, handbags, cell phone cases, home and office décor, gun cases, and more."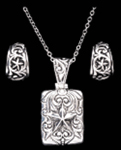 Here are details on 3D's other products:
Badger line: The Badger line is 3D's leather products for outdoor and work. Badger includes men's and ladies' belts, kids' belts, cell phone holders, wallets, gifts and home décor, dog collars and miscellaneous other products. An exciting new addition to the line is motorcycle gear, including belts, wallets and cell phone cases for this increasingly popular pastime of cruising the roads.
Sentry line: The Sentry line is a line of belts and miscellaneous items for golf and dress.
Silver Strike line: 3D's Silver Strike line of jewelry includes belt buckles, hand engraved jewelry, pendants, beaded sets, jewelry sets, bracelets and watches, earrings and necklaces, bolo ties, key fobs, and money clips.
Angel Ranch line: 3D's exciting new line of Angle Ranch personal care products includes bath, body, perfume and cologne products.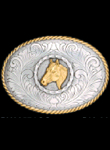 Brock is excited about 3D's new product lines. In speaking about the Angel Ranch line, he said that it is popular within the Western products industry and beyond. "Our logo-ing of Angel Ranch works within the Western industry and outside the industry as well. The logo looks a lot like tattoo art. It features tattoo art angel wings, halo, and the words, "Angle Ranch," scrolled across the bottom. We are continually seeking ways to grow our company," Brock emphasized. "For example, we introduced a line of dog collars this year, which is a line of fine, genuine hand-tooled collars. Even though we were strictly Western in the past, we are expanding well beyond that now."
3D Belt Company does not sell direct to consumers on its website, but will refer visitors to one of its many retailers. "We are a wholesale distributor, and people can see our entire line and call us. When we get calls from consumers, we direct them to the closest retailer to buy our products. It is an information site only. Naturally, for those that want to be set up as a retail distributor, we can accommodate that as well," he said. 3D works with other websites and catalogues to dropship product, and has retailers across the country. The company has distributors in Canada, Italy and Spain, and is negotiating with other firms around the world. 3D has a staff of 37 in Texas and a sales force of 17 nationwide.
The following were interviewed for this article:
Tony Brock
Senior vice president of sales and marketing
The 3D Belt Company
1001 Huser Blvd.
Schulenburg, TX 78965
Toll Free: 800-622-3998
Fax: 800-435-0796
Email: customer_service@3dbelt.com
Website: www.3dbelt.com