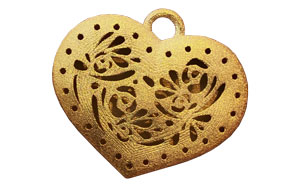 For many years, new manufacturing methods have significantly evolved fashion accessories' designs and capabilities. Recently, high-end designers have been leveraging 3D technology to unlock a new level of customization, enable design innovation, achieve sustainability, and increase the speed of production.
Designers like Christian Tse and EAC Metal Ornaments, who create the ornaments seen on Louis Vuitton, Givenchy, and other fashion houses, have begun using Desktop Metal's 3D printers to create their designs. By turning to 3D printing, consumer jewelry and fashion brands can adapt to fast changing customer demands that shift from season to season, while also reducing waste and keeping the manufacturing process within the United States.
Delivering Customized Products Made Easier
"Jewelry is surprisingly one of our biggest segments. We had our eyes focused on the automotive industry, but as we developed our technology, jewelry companies came in and said they wanted to do the same thing," Jonah Myerberg, Co-Founder and CTO at Desktop Metal, said. "Customization is a huge part of 3D printing and you can change the design however you desire. To scale up a new manufacturing process, oftentimes you have to sacrifice the customization part, but with digital manufacturing, you do not have to sacrifice that and now you can make all of the accessories unique."
3D printing has come so far over the years that these products can be printed and sold directly to consumers as-is. Traditionally, brands would use this technology to create a model, but now everything can come off the printer already assembled. Whether you design a bracelet with moving parts or a solid pendant, accessories can be fully printed together. This not only helps to remove extra labor costs, but it can also make manufacturing within the country much easier.
Bringing Manufacturing Back Into the U.S.
One of the biggest jewelry companies that Desktop Metal is working with has not made jewelry in New York, where the business is situated, in about 50 years. Now with 3D printing, they are able to reshore manufacturing and bring it back into the United States. Even though New York has a high rent cost for manufacturing spaces, 3D printers are small, allowing brands to turn a 100,000 square foot factory into a much smaller area and save on rent costs. Myerberg says this is opening the doors to bring manufacturing back into the states where they have not built jewelry for years.
Available for Retailers Big & Small
If you think that 3D printing is financially unattainable for your retail brand, think again. Businesses do not even need to buy their own printer. Desktop Metal sets up service providers, which are mini factories around the country, that retailers can send their designs to and get them printed for you. EAC Metal Ornaments, who utilizes Desktop Metal's 3D printers, is a great example of a tiny factory in which any retailer can send them their accessory design and EAC will print out however many you want and send it back.
"Retailers can actually save money with 3D printing because they do not need to buy special tools to manufacture accessories and it also cuts down on supply chain costs," Myerberg said. "We found that our customers have millions of dollars worth of gold, silver, and platinum sitting in a warehouse just waiting to be made into jewelry. 3D printing allows you to turn that into powder and then print that into any shape or size, so you do not have as much sitting in a warehouse. There is just powder waiting to be created into a product."