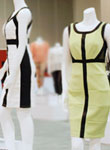 The 40th OFFPRICE Show (August 16-19, 2014) in Las Vegas celebrated the history of the show while demonstrating a vibrant and exciting future. The show recognized the 15 companies that have been exhibiting at OFFPRICE since its first year in 1995 at a cocktail reception for attendees. The first show in 1995 had a total of 24 exhibitors. In all, 10,600 attendees were onsite to find the latest fashions at below wholesale prices for their stores. Attendance from international retailers continued to impress, with 900 such attendees present at the Sands Expo to take advantage of the 131,000 net-square-feet show floor.
"Over the past 40 shows, OFFPRICE has become more than a show. It's a community," said Stephen Krogulski, chief executive officer of OFFPRICE. "The entire community enjoyed a successful show, with exhibitors and retailers writing orders for products from the show floor. There's really no other show like OFFPRICE."
The OFFPRICE Show is an order-writing trade show, meaning retailers can place orders directly from the show floor, and often have the product on the racks of their stores approximately two weeks later. Nearly all of the fashions and apparel found in the booths throughout OFFPRICE are priced 20-70 percent below wholesale, making it one of the best places in the country to find the best value on clothing.
"The OFFPRICE Show was awesome! I made orders with five of the vendors that I met there," said Shantell Burrows from 242 Designer Express (Las Vegas, Nev.) "I'm really looking forward to continuing business with (OFFPRICE)."
OFFPRICE returns to the Sands Expo, February 15-18, 2015. For more information, visit OffPriceShow.com.