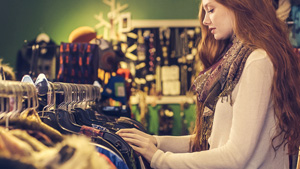 Now that you have lots of great fall merchandise in stock, it's time to sell! Here are a few quick tips to keep your sales strong throughout the season.
1) Change Your Display
Your window displays, featured products, and mannequins should all be switched up regularly. If every time a shopper walks by, your store looks exactly the same, you are not going to grab their attention.
You don't need new inventory to create a new display. Work with what you have to create different outfits. Try organizing garments by color. If you have all of your accessories in one area, work to incorporate them into the rest of the sales floor.
2) Sell on Social
You put a ton of work into selecting new products for your store and arranging them into eye-catching outfits. Instead of waiting for shoppers to come to you, show off your goods on Instagram and Facebook. Have customers comment which items and sizes they want, then send a private message to arrange payment and pickup. This strategy is super convenient for customers and creates hype around your brand with all the likes and comments. If someone scrolling past on Instagram sees a bunch of friends buying a specific shirt, they will want to get in on the action too.
3) Accessorize
Fall is all about warmth and coziness. Maximize your sales by incorporating standard fall accessories like scarves, mittens, and fuzzy socks. Gloves are one of those necessities that people have more than one of and will keep purchasing as the need arises. Position these impulse buys throughout the store and by your register to cash in on add-on sales.
4) Know Your Audience
It is fun to follow all of the latest trends and styles. There are many shoppers who will switch up their entire look for the season and try just about anything. There are also many shoppers who prefer to stick with what works for them and opt for more classic pieces. Just because something is "in style" doesn't mean your shoppers will want it. Take the current belt bag trend for example. These updated fanny pack bags are very on-trend right now but they do not appeal to everyone.
5) Give Them Options
Just because you absolutely love a particular top or scarf does not mean your shoppers will. When selecting merchandise, go outside of your personal comfort zone and choose pieces that are outside your personal style. A wide variety of cuts, colors, and sizes mean you will have something for everyone.