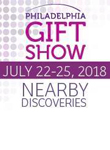 Attention East Coast gift retailers! If you're looking for a way to spice up your store offerings, the gift and souvenir trade show experts, Urban Expositions, has announced the addition of a new Northeast Flavors gourmet and specialty foods section to debut at the upcoming Philadelphia Gift Show in July. Designed to compliment the popular Artisan Alley section of the show, the new focus on products made locally in the Northeast adds regional flair and provides retailers with a wide variety of products to draw in gift and souvenir shoppers.
"The addition of Northeast Flavors along with Artisan Alley section expands the assortment of products and bolsters the shopping experience for our Mid-Atlantic and Tri-State area retailers to help them pinpoint locally-made resources that will help them set their store apart," says Sonya Lowe, show director, Philadelphia Gift Show. Joining the ever-interesting Makers' Market, the show's new section is an exciting and timely addition as buyers seek new products for fall and winter gift seasons.
What can retailers expect to find in the new Northeast Flavors section? The Urban Expositions team tells Independent Retailer that many of the wholesale suppliers will be new, first-time exhibitors at the show, and will offer curated tabletop displays of their wares for retailers to find products that fit the unique style of their particular store. Products will include sweet treats, spirits, flavored oils, and other Northeast gourmet favorites. By offering goods made locally, the show allows food artisans to find new outlets for their unique creations, as well as offering retailers a select group of home and house ware items including textiles, ceramics, stationary, home décor pieces, as well as personal goods like jewelry and apparel.
The Philadelphia Gift show runs from July 22 – 25, 2018 and offers retailers a number of educational programs, panel discussions and product demonstrations in the show's Discovery Zone section. For retailers planning to attend the Philadelphia Gift Show, additional travel discounts and shows schedule information is available now. Please call 678-285-3976 or visit the show's website at www.philadelphiagiftshow.com.