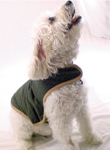 People aren't the only ones enjoying the technological advances of the 21st century, as Advance Pet Products (APP) has introduced its Stay Clean line of jackets and beds to the market. Using nanotechnology, the study of manipulating matter on a molecular scale, APP has altered the fiber of these jackets and beds to repel anything and everything from water to sludge. "Nothing is done to the surface of these products to repel liquids and other messes, but rather it is the altered fiber that allows them to retain their original properties and stay clean," says director, Bikram Singh.
High Quality, Low Cost Dog Jackets
The products themselves are 100 percent cotton, soft to the touch and fully breathable. With three dog bed sizes and jackets available for dogs 10 to 28 inches in length, most breeds can enjoy a taste of the future. "The jackets are better than any other on the market," notes Singh. "The double Velcro keeps the jacket on, but allows for easy on and off." The jackets also feature a leash hole that makes the collar accessible, fleece lining, and a high fashion corduroy trim. Available for under $10 wholesale, retailers such as boutiques and pet shops can expect to make almost triple on the smaller jackets and at least keystone on the larger sizes.
With a history in textile manufacturing and quality control, APP prides itself on developing new products with the best quality and competitive prices. Offering 300 skus, APP continues to sell its top selling all natural, biodegradable jute cotton toys, as well as stainless steel and non-skid feeding bowls. "Other products on the market frequently have low quality electroplating. If the surface is scratched, the nickel layer may peel off. We are proud to present high quality electroplated (High Chrome) products, to assure adhesion of the nickel layer. We care about you and we care about your pets!," says Bikram. And for this reason, APP continues to look into new technologies during product manufacturing.
For more information:
Advance Pet Products
140 Advance Blvd. Unit 9
Brampton, Ontario L6T 4Z8
Tel.: 905-840-6486
Website: www.advancepetproduct.com